THE PUBLIC
by Federico Garcia Lorca
Winner of 3 Drama-Logue Awards
[Production; Direction (John Sowle) & Costume Design (Silvia Jahnsons)]
Clockwise from top: Alex Katehakis, Roger Gutierrez, Khin-Kyaw Maung and Richard Neil
Directed and Designed by John Sowle, Costumes by Silvia Jahnsons, Incidental Music Composed by Jules Langert.
with Robert J. Bennett, Denise Y. Dowse, Roger Gutierrez, Alex Katehakis, Kevin Kirby, Khin-Kyaw Maung, Richard Neil, Steven Patterson, Jane Thurow, Richard Vidan, Courtney Walsh and b. Wyatt.
Opened February 23, 1989 at the Shepard Theatre Complex Stage Left; Hollywood, CA


From left: Steven Patterson, Alex Katehakis, Jane Thurow, Denise Y. Dowse
"Federico Garcia Lorca's strange, compelling play is brilliantly realized in this Kaliyuga Arts production ... Conceived in 1930, the play remains thrillingly ahead of its time. Cast members evoke the eerie poetry of the dialogue without abandoning its meaning. John Sowle's innovative direction and set design and Silvia Jahnsons' stunning costumes leave a lasting impression."
--- Alison Sloane, Reader
"This production of Federico Garcia Lorca's most daring and difficult dramatic work, never performed in his lifetime and now staged for the first time in the U.S., deserves to be hailed as an event. Producers, director, performers and designers all deserve commendation for valor in attempting this heroic feat ... It needs to be seen for the beauty of its language and imagery, both of which director John Sowle translates magnificently to the small stage, giving us with absolute fidelity the swirling, shifting images of Lorca's vision ... Deep commitment to true art, as lavished here on Lorca's artistry, is no cheap thing; it's too rare and valuable."
--- Polly Warfield, Drama-Logue
"It is not often that a play as powerful and important as Federico Garcia Lorca's The Public has its American premiere in an Equity-Waiver space in Los Angeles, and Kaliyuga Arts' production at Stage Left proves itself deserving of the honor. It is a rich, difficult play thrillingly rendered with great humor by a brilliant director and a talented ensemble ... This production's brilliant design and direction by John Sowle matches Lorca's dense linguistic images with a seemingly endless stream of vivid visual creations. Mr. Sowle has also assembled a multi-talented ensemble and led it to the kind of heightened acting which thrills you with the power of live performance."
--- Michael Kozo, L.A. Theatre & Entertainment Review
From left: Richard Neil, Alex Katehakis, Steven Patterson
"A wild dreamscape presented with exceptional visual intelligence under John Sowle's direction ... Well performed by a large cast who cover 40-odd roles, this is a snidely humorous, tantalizing, erotic play."
--- Maryl Jo Fox, L.A. Weekly
"Wonderfully theatrical, brilliantly conceived ... The Kaliyuga Arts presentation at the Richmond Shepard Theatre Complex of The Publicwhich opened on February 23rd hits us in our collective insecurities with visceral, universal, disturbing, compelling, exotic and alluring images and ideas. I was disturbed by the play. I felt as if I'd climbed inside Lorca's head and was dealing with his problems, his nightmarish visions, his self-loathing sense of himself. And I was wonderfully entertained. I recommend seeing The Public again and again. It has the depth and density of a true work of art."
--- Lawrence Kulp, GALTA News
From left: Roger Gutierrez, Richard Neil, Robert J. Bennett and Khin-Kyaw Maung
Excerpts from Letters Received During the Run
"Thank you for The Public! It has been a long time since I have been so stimulated by a night at the theater. Kaliyuga Arts has certainly continued to live up to its reputation for presenting quality productions and stretching both the actor and the audience. Please convey my admiration to your entire ensemble."
--- Bill Kaiser, The Purple Circuit
"There isn't really any way for me to say what I want to say so that I can express what I felt, what I feel. The world has been going to hell in a handbasket for a long time. Lorca was one of the few people trying to change that. You guys also for presenting his play ... The Japanese have a concept called giri. Roughly translated it means honor. But what it really means is that one must do what is fair and right and honorable if one wants to be able to look in the mirror without lying. I don't think either one of you have any trouble shaving."
--- Richard Vidan, Cast Member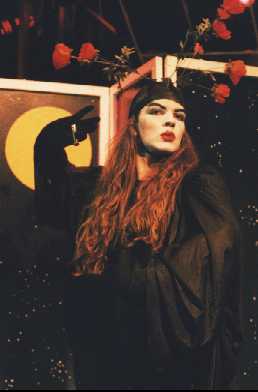 Kevin Kirby

Kaliyuga Arts, 2678 Old Kings Road, Catskill NY 12414 518-943-3894
Copyright © 2015, Kaliyuga Arts