THE CLIENT
by C.D. Arnold
Drama-Logue Award
[Performance (David Perez)]
From left: Mikael Duden, David C. Perez, Andrew Harkins, Maryann Sanders and Janet Keller
Directed and Designed by John Sowle, Dramaturgy and Sound Design by Steven Patterson
with Mikael Duden, Andrew Harkins, Janet Keller, David C. Perez and Maryann Sanders
Opened April 30, 1993 at the New Conservatory Theatre; San Francisco, CA
"Refreshingly non-stereotypical ... Playwright C.D. Arnold, who recently became another monument in the boundless local graveyard of artists lost to AIDS, has written his own eulogy into this sharp play-within-a-play ... The recently relocated Kaliyuga Arts company has broken noteworthy ground in their new hometown."
--- Kama Einhorn, S.F. Weekly
"The Client ranges from morbidly hilarious to profoundly moving, often in hardly more than an instant."
--- Steve Warren, San Francisco Sentinel
"Fascinating! ... Arnold's power to create dramatic fireworks is at its peak."
--- Gene Price, San Francisco Bay Times
"Sensitively directed by John Sowle, The Client is a goblet of rich wine held up as a toast to the sanctity of the human spirit ... A lovingly mounted, well-constructed realistic play filled with wit and humor, and which is also deeply moving."
--- Dean Goodman, Drama-Logue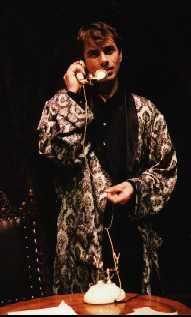 Michael Duden

Kaliyuga Arts, 2678 Old Kings Road, Catskill NY 12414 518-943-3894
Copyright © 2015, Kaliyuga Arts