From the San Francisco Performances
"This is a major DON'T MISS!"
--- Maxine Morris, San Francisco Bay Times
"Amazing! ... There's no mystery behind Beauty's runaway success. This play is nothing short of raw and transcendental ... Poetic madness shines through an effervescent Steven Patterson who convincingly delivers every single moment of ecstasy, rage, and short-lived moments of resolution ... This is the kind of play Jesse Helms lives for."
--- Mary Ann Swissler, San Francisco Sentinel
"The highlight of this year's Festival ... In his riveting performance, Patterson carefully walks the fine line separating genius from insanity ... A stunning and dangerous piece of work."
--- Jerry Metzker, Bay Area Reporter
"Not for the timid! ... This Kaliyuga Arts production pulls no punches ... Patterson's raging performance offers a transcendent vision of a man trapped in a hopeless search for love. For students of Genet's work, Beauty is a moving if unnerving tribute."
--- Gene Price, San Francisco Bay Times
"Very poignant ... Beauty is more than it seems on the surface; it's the anguished cry of a lonely soul as he seeks spiritual as well as physical fulfillment ... A courageous, in-your-face, passionate performance."
--- Dean Goodman, Drama-Logue
"A romantic celebration of outlaw freedom ... Patterson is undoubtedly the winner of Gay Male Fantasy of the Year, with his bristly crewcut, sensuous mouth and rippling muscles."
--- Mari Coates, San Francisco Weekly
"Poetic, sensual, honest, vivid and highly moving ... A forceful interpretation, moving from moments of tenderness to moments of fierce revenge and violence ... Rendered with so much sensitivity, understanding and empathy that it rarely fails to evoke compassion on the part of the spectator."
--- Annette Lust, Swiss Journal
"Striking! ... Patterson has woven Genet's words into his own paraphrases and brought forth a haunted poetry in which every image has erotic significance ... This is as fine a way as I know to become acquainted with the world that produced Jean Genet, its memorialist and survivor."
--- Judith Green, San Jose Mercury News
Excerpts From Letters Received During the San Francisco Performances
"You were truly FORMIDABLE! Angry, dark, lusty, tender, imaginative, raging, poetical -- it was just terrific & very moving ... Congratulations to both of you!"
--- Nancy Langert, Oakland, CA
"Just wanted to let you know how much I enjoyed the performance at Josie's on the 4th. The whole piece 'spoke to me', to my soul, and as I walked home alone in the rain afterwards, I felt lucky at seeing it. I paint pictures, and what I saw and heard is what I would love to be able to put on canvas ... Thanks!"
--- David G. Fink, San Francisco, CA
"Last night, I saw an incredible piece of theater in one of the funkiest parts of San Francisco in a tiny theater I had never heard of before ... Little did I know what magic lay in store for me in the hands of the talented Steven Patterson. And the direction by John Sowle was flawless and full of imagination ... My favorite scene: Patterson/Jean dancing in his cell to Billie Holiday's 'In My Solitude', more moving to me than Tom Hanks' reverie listening to Callas in Philadelphia ... Thanks so much to the EXIT Theatre and all involved in presenting this poetic and beautiful piece."
--- Roy Lott, Richmond, CA
"The first time when I saw Beauty and you came out again to receive your applause, I was very much irritated by how fast the audience stopped to applause and went out. I asked my company: 'What's going on here? What an impassionate audience!' But I had to follow them silently. And he answered that experiencing your performance might have been too intense to face it any longer. I would add: too intense to face you having mirrored us any longer ... I write to you because I felt like having to thank you for this experience. It's my sixth time in the U.S. and so far I wasn't very lucky with the American Theatre. So I kind of waited for a performance like yours. Theatre, for me, belongs to quality of life. And since I'm thinking about moving here one day, your Beauty was an invitation ... I've never seen something in which physical and intellectual experience melted together that perfectly ... You should come to Berlin with Beauty. There would be an audience who would also appreciate your work. Good luck to you!"
--- Bert te Wildt, Witten, Germany
"I felt the need and desire to write to you both after having seen your play Beauty at Josie's last night. My feelings and thoughts are many, yet my most overwhelming sentiment is joy. Joy at seeing two artists who through their work express, share and transmit their being to those who come to be spiritually nourished and uplifted. It's all there! The love, the honesty, the striving, the talent ... Your rage, sensitivity, anger, violence, poetry and fragility were truly a joy to us all. Thank you both so much for a remarkable evening."
--- Doug Fowley, Jr., Geneva, Switzerland
"I have no words, only my love & gratitude."
--- Reina Woodyard, San Jose, CA
"The new light I saw you in last night was just about the best lighting job I have ever seen, as was every part of the production. Some theatre experiences are complete, balanced, a full circle of their intent, and this was one of those. And yes, it did send me straight to the library for some Genet. Thanks."
--- June Stoddart, actress, Oakland, CA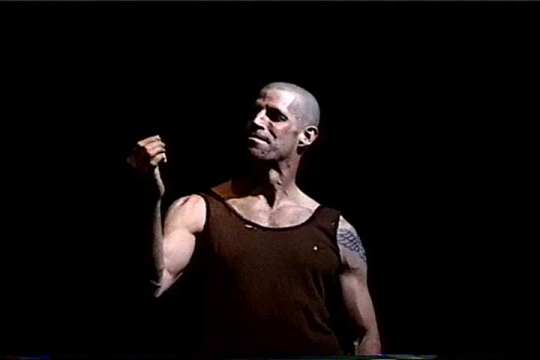 From the Montreal Fringe Festival, 1995
"Electrifying! ... In his own way, Patterson has captured Genet's style -- a fluid, florid stream of consciousness -- but made it graphic in a way that adds authenticity, a raw power. At the same time, he loses none of Genet's alluring sensuality or lyricism. Under John Sowle's sensitive and carefully detailed direction, Patterson's hypnotic, highly physical, highly charged performance matches in both movement and delivery this blend of fluid grace and uncompromising toughness. Muscular and dancer-like, he is the tragic image of the caged wild animal ...There is a visceral thrill in experiencing an actor putting himself totally on the line, exposing himself emotionally as well as physically when it is, as in this case, so absolutely right. To do any less would be to fail Genet. And Patterson has the guts to go over the top and beyond ... Beauty is unlike anything else you'll see in the Fringe and Montreal is privileged to have it. Don't miss this show!"
--- Maev Brennan, Capital News (Kelowna, B.C.)
"Every year at the Fringe there's a runaway hit, one show that has to turn people away at the door. Word of mouth travels fast in the Fringe universe, and this year the buzz is all about Beauty."
--- Gillian Deacon, CBC TV: Citybeat
"A knockout! Beauty is a gut-wrenching prison drama, powerfully performed by an actor whose considerable talents actually justify his flagrant exhibitionism ... A three-orgasm tour-de-force. But this is hardcore with strong literary value. Genet had a way of making people see beauty in unlikely and forbidden places. And he never forgot the intense bonds he forged with his fellow prisoners ... Nothing if not gripping."
--- Pat Donnelly, The Gazette
Comments from Audience Members Posted on the "Buzz of the Beer Tent" Wall
"Not quite sure I can put this into words -- shatteringly wonderful!! ... Thank you for coming to our Fringe!"
"Beauty is the Beast. C'est vraiment magnifique ... Poetic, crude, graceful in form, content, movement; tragic, soaring, violent, erotic, brutal, tender ... Brilliant writing, acting, directing. If you can see only one show (and body) in the Fringe, make it this one!"
"WOW!"
"Thank you to Steven and John for showing the rest of us how to feel so deeply. Agony is born of desire, and Steven Patterson reaches a level of honesty that we all may be afraid to admit. His passion is universal and divinely human."
"It is an experience that I'll never forget, but it is also an experience that I would not have wanted to miss."
"Don't see it if you're squeamish/prudish/repressed; otherwise -- GO SEE IT, damn it!"
"A MUST -- if you truly are sensitive."
"The End: I feel like one of the wooden parts left from a ship that just crashed in torment and storm under clear sky now being rocked by the waves with complete tenderness. Beautiful combination of this body on fire with sexual desire and the longing for 'real love' within. Difficult material. John and Steven made it work. Thanks for sharing."
"Beautifully written, beautifully acted; violent, visceral and very sexual. I didn't laugh, I didn't cry, I sat in stunned and humbled amazement. Absolutely fucking brilliant."
"I had to wait an hour to write my review. The power and intensity of Steven's performance and writing left me at a loss for words. Funny, scary, brutal, compelling, gripping, and very erotic. My God, see it if you can!"
"One hour of pure emotion. Invasion into the cell of a tormented child. Description of a seemingly undescribable pain. DO NOT MISS THIS. Powerful. Brilliant. I'm still shaking. --- a speechless fringehead"
From the Minnesota Fringe Performing Arts Festival, 1995
"Sensual, tough, unyieldingly amoral in the tradition of Rimbaud and Gide, defiantly naked and presented with unfettered commitment ... [Genet has] always been a difficult, dense writer, and Patterson embraces him totally and powerfully, even frighteningly at times ... Not for the faint-hearted or closed-minded, but for those who walk Genet's turf, it's powerful stuff."
--- Mike Steele, Star Tribune
"With an eroticism both ecstatic and seethingly bitter, Steven Patterson's subversive San Francisco treat invokes Jean Genet's prison writings in a full frontal assault ... Patterson enacts and describes prison torment and fantastic sexual encounters in such vividly defensive/offensive detail that in retrospect, you may find yourself visually recalling set pieces and characters he only spoke of."
--- Laura Sinagra, City Pages
"Great! ... Steven Patterson, tall, muscled and tattooed, is riveting in this solo performance of the prison writings of Jean Genet -- full of modulation, control, sadness and ecstasy."
--- Claude Peck, Twin Cities Reader
"Transcends the politically-correct gutter in which so much gay/gender-oriented performance art has wallowed for far too long now. This one-person show revives the literary and poetic standards set by such greats as James Whitmore and Julie Harris."
--- John Townsend, Twin Cities Gaze
From the Fringe of Toronto Festival, 1995
"Highest Rating! ... Patterson creates a character whose fantasies about real and imaginary men -- former lovers, convicted murderers, sailors and pirates -- are the story of a desperate search for love and tenderness in the brutal world behind bars ... Experience his remarkable performance and you'll find out what all the fuss is about."
--- Kate Taylor, The Globe and Mail
"Beauty: San Francisco writer/performer Steven Patterson's graphically homoerotic and powerfully performed homage to French author Jean Genet ... Remarkable, a potent, essentially theatrical mix of the self-conscious and the uninhibited. It embraces the communal core of theatre -- putting yourself on the line in the presence of other people and demanding a reaction."
--- Vit Wagner, The Toronto Star
"Highest Rating! Critic's Choice! ... An homage to the life and work of chronically imprisoned French writer Jean Genet, this solo piece by San Francisco performer Steven Patterson provides a potent primer in the brutalist school of eroticism. A yearning, passionate prison monologue, it evokes a violent, phallocentric world -- all sweat, shaved heads and hard bodies, numbing brutality and flashes of tenderness ... This lean, sinewy and rather elegant John Sowle directed production depicts [that world] with visceral power. The text, gleaned from Genet's work, weaves together moments of condensed poetry, bursts of desperate eroticism and flashes of humour, and Patterson's harrowingly intense performance captures the raw poetry of longing and momentary release."
--- Jill Lawless, NOW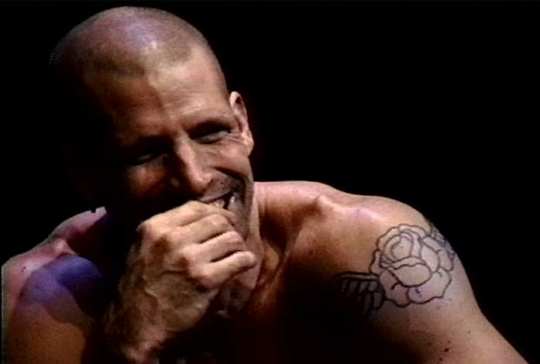 From the Victoria Fringe Festival, 1996
"An experience both fascinating and unforgettable -- brutal, compelling, powerful, funny, gut-spilling, riveting ... Over 60 minutes, Patterson successfully draws the viewer into a hallucinatory, claustrophobic world built on savage sexual fantasies (sailors feature big in these). Although he's portraying a Frenchman, there's something quintessentially American about the performance. Patterson has a Bogart-craggy face and a lean muscleman's body and he makes good use of these in stellar Method style. His tendon-stretching acting is startlingly physical ... There's been quite a buzz about Beauty and it lives up to the advance hype -- a play no serious theatre-lover will want to miss."
--- Adrian Chamberlain, Times Colonist
"Tragic, terrible, beautiful ... What could be construed as shocking isn't. Instead a very naked Jean Genet recounts the ordeal of prison and the fantasies that fueled writings of incredible sensitivity and passion. Steven Patterson gives an engaging, focused performance in a terrific body"
--- David Lennam, Victoria News
"Steven Patterson's Beauty thrilled us with both his perfect ten body and his testosterone-fueled performance of the lyrically lush and dangerous prose writing of the French poet and playwright Jean Genet. Patterson gave us all he had and Victoria responded."
--- Charles Tidler, The Craig
"Intensely passionate and dramatic ... A tale of torment, tragedy and even a form of triumph ... The play's raw emotion and strong presence will challenge and shock you, but its underlying themes will captivate and touch you."
--- Brooke Cameron, The Craig
Audience Comments Published in The Craig
"Truly outstanding!" --- Betty and Dan McLeod
"Brilliant, memorable and moving. Not easy to watch, but worth it." --- Tudor Davies
"A 10! Artistic, dramatic, strong." --- Charity Chomey
From The Fringe, Vancouver's Theatre Festival, 1996
"Beauty is not a play for those who are prim about passion ... A homoerotic glimpse into the world of the incarcerated -- explicit and intriguing."
--- Dale Drewery, CBC-TV
"Remarkable! ... This performer and this performance embody a world of queer fantasy. Actor-writer Steven Patterson is voluptuously muscled and gets so naked he lets you peer up his asshole within the first five minutes. The script, based on the prison writings of Jean Genet, reads like a suite of deliciously complex jerk-off poems ... Subtly intelligent and densely literate."
--- Colin Thomas, The Georgia Straight
"Confronted or affronted, repulsed or riveted: Beauty will affect you. Steven Patterson spits, brutalizes and caresses his own poetic script. It is a soulfully gripping evocation of anguish and ecstasy. Take a deep breath and go."
--- P. Jennings, Review
"Adult theatre in the best sense, not just because of its language, content or nudity, but because of the depth of its thought and acting ... The fact that this daring experiment works is due to the brilliant writing and acting of Steven Patterson -- a gutsy, mesmerizing performer who moves with the grace of a dancer -- and the direction of his partner, John Sowle ... One of the most powerful theatre experiences one could hope to have."
--- Maev Brennan, The Daily Courier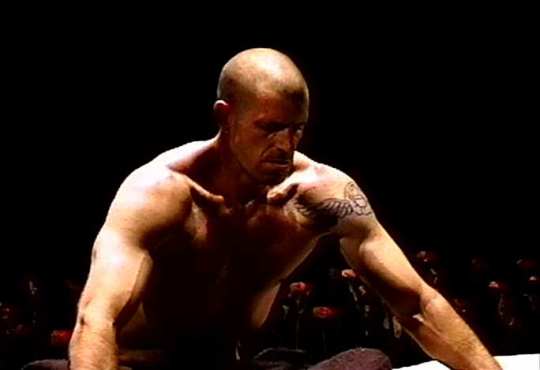 From the "That Uppity Theatre Company" Engagement, St. Louis 1997
"It's hard to imagine an audience being shocked by anything today, but the performance of Beauty last weekend at the St. Marcus Theatre stunned the loyal Uppity Theatre audience. Using the life of Jean Genet as a springboard and infusing the piece with Genet's rough narrative style, Beauty is a graphic exploration of degradation's raw, dark sensuality ... Author/actor Steven Patterson offers a Genet who is imprisoned but not imperiled. He is an inmate who allows his body's sexual hunger to catapult his mind and heart to the poetic ... As if the writing weren't bold enough, under director John Sowle's tutelage, Patterson didn't so much act as erupt. A massive hulk of a man, he stormed the stage with his carefully sculpted body and tore through the performance with a boldness that was equal parts madness and courage. With eagerness and glee, he controlled the crowd with a precise, eerie intensity that was at once artistic and scary ... In a season devoted mostly to yucks, bringing in this one took real guts. Argue with it for sure, but Beauty pushed its audience in ways that are rarely experienced anymore."
--- Mike Isaacson, The Riverfront Times
"A draining journey, filled with moments of uncomfortable laughter and uncensored, in-your-face proclamations of sexual identity ... From the first view of the stage's Spartan prison cot and the opening sounds of a jail door clanging shut, the audience knows it is not in for a leisurely night of theater ... Beauty allows us to peek into both the dark prison cell and the lively imagination that shaped the Genet aesthetic ... Patterson possesses the type of charismatic volatility that simultaneously frightens and fascinates ... He bares both body and soul as he deftly moves from lust to love to violence and finally, in a heartbreaking moment, to sad loneliness ... The packed house rewarded Patterson's effort with thunderous applause and three curtain calls. Ironically, no one performed the time-honored theater ritual of tossing roses on stage. It would have been a fitting gesture."
--- Jeff Daniel, St. Louis Post-Dispatch
"People here are still talking about Beauty. You really got St. Louis' attention. You also reminded Joan and me just what kind of work we want to produce ... There is a lot of light-weight comedy out there, so it's easy to book that stuff. It's not that that kind of work is bad, but that's not really Joan or me. Thanks for the reminder (I think). The other work is fun, but producing one Beauty is more satisfying than two seasons worth of the other. Working with a Steve Patterson is pretty terrific as well."
--- Jay Dodson, Production Manager (That Uppity Theatre Company)
"Joan has wanted for many years to bring more challenging work such as yours to St. Louis, but she has always felt somewhat constrained by the effect such work might have on her funding. As we were discussing at brunch, the persons who sit on arts funding boards are not always sophisticated or educated, and usually are reluctant to push the cultural boundaries in a community. We hope the positive reaction to your piece will open the door to other artists."
--- Woody Bebout
From the "Celebration Playhouse" Engagement, Palm Springs 1997
"Ecstasy! ... Steven Patterson has artfully distilled some of Genet's most powerful perceptions about love, lust and the brutality of loneliness into his one-man play, Beauty ... Under the sensitive direction of John Sowle, Patterson seems to revel in the paradox of great beauty amid the squalor of prison, which Genet inhaled with such gusto. This is an actor who left the audience stunned into contemplative silence that can only be accomplished by the most gifted performer."
--- Jeff Britton, The Desert Sun
From the "6@Penn Studio" Engagement, San Diego 1997
"Beauty is a doozie! ... Anyone familiar with Genet will hear the author's voice loud and clear in this piece. His obsession with men, sailors, prisoners, hustlers; his eroticizing of every aspect of the male body; his sadomasochism; his isolation, pain and borderline madness. It is all there, spoken in descriptive, flowing cadences. Patterson dives into it all with an intensity made all the more powerful and in-your-face by the smallness of the 6 @ Penn's space. He moves his well-defined, muscular body like a cheetah. He jerks, twists, jumps, tears off his clothes. He gets quiet, pensive, silly. All the while he tells stories about furtive, sometimes rough, sometimes sweet sex in jail cells, on wharves, on his knees before 'straight trade.' ... The show may intrigue, may offend, may titillate. Go see it!"
--- Bob Findle, Gay & Lesbian Times
"A gut-wrenching performance full of raw, visceral energy! ... Patterson portrays the tortured genius with all his contradictions. He channels Genet's sadomasochistic fantasies about his fellow inmates. He makes the audience feel Genet's resignation to prison routine as he marches in circles of futility or dreams of an encounter with The Little Guy in the cell above him. In the play's nude scenes, Patterson deftly drives home the lurid and grittier aspects of Genet without appearing gratuitous."
--- Jeff Britton, Update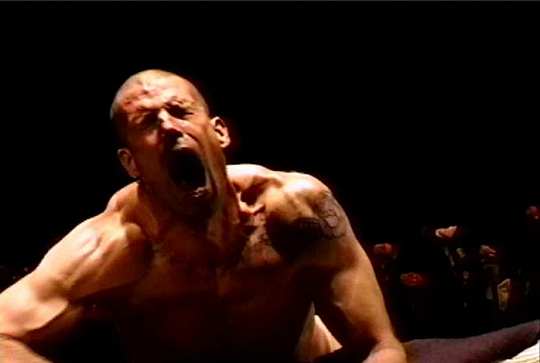 From the Off-Broadway Limited Engagement at Theatre Off Park in Manhattan,
Dec. 1997 - Feb. 1998
"Recommended; Critics' Pick! ... Steven Patterson, a San Francisco-based actor and playwright, puts his intense, power-packed one-man show in the capable hands of director John Sowle. Inspired by the life and work of French writer Jean Genet, Beauty is set on a simple, elegant stage containing only a cot surrounded by a ring of roses. Here 'Jean' is a prisoner who shares with us his erotic dreams and spiritual quest for love inside a penal system where survival counts on the ability to embrace the chains that bind. In this brutal, butch world, sex and violence blur; Jean's fantasies are the stuff of Tom of Finland drawings. Still, below this gruff surface lives a tender soul. While this raw subject matter might not have mass appeal, it does achieve what good theater should: It asks you to feel and leaves you thinking."
--- Matt Stewart, Time Out New York
"Perfection! A Beauty of a play ... On an austere set decorated with dried, red, long-stemmed roses that seemingly sprout out of nowhere, and sitting on a prison-issue cot, Patterson takes us on a 65-minute journey into the sexual fantasies of a desperate man who finds salvation in the love of other men. The language, a combination of Patterson's own and Genet's, gives this big, handsome muscle-builder of an actor a chance to play off his machismo against flowing words and phrases that seem antithetical to his physical presence. What is very vividly a man alone in prison becomes a whole stage full of handsome characters ready for sexual exploration ... This erotic one-man show grips the throat from start to finish with savage intensity. Genet himself would have been proud."
--- Ricky Spears, In Theater
"In these numb, desensitized times, it's nice to know that occasionally one can still be totally shocked. And Beauty shocks, all right. It's a short, vivid work with the stink and sensuality of a seedy backroom ... An unswerving depiction of Genet's philosophy, captured in a tense, brawny performance by Patterson, who has so succumbed to the role that he seems to struggle with refinding himself at the curtain call. It's a role that places an actor in what might otherwise have been humiliating situations. Patterson, however, is unflinching, even regal. He's as hard as rainwater and scary as hell ... Beauty is a beast worth fighting. It graciously recaptures what makes Genet so compelling in the first place. Quite unforgettable!"
--- Gregory Young, HX Magazine
"Steven Patterson's solo, adapted from the writings of Genet, is wonderfully true to its source. The language is lush as only a prison reverie can be, a yearning for wolfish teeth to sink into a 'defenseless neck' and brand 'white shoulders' without leaving a trace ... A love letter to passion stoked on deprivation, to art's transformation of defeat into victory, of eros snatched from suffering and suffering tripped into pleasure."
--- Laurie Stone, The Village Voice
"Hot-and-throbbing! ... Steven Patterson's solo performance piece Beauty is a sort of valentine to author Jean Genet, a rhapsodic ceremony of self-dissolution in the service of finger-flipping autonomy ... No doubt Genet would have enjoyed it."
--- Charles McNulty, The Village Voice
"Stark and vivid and concise ... Part reverie, part nightmare, Beauty provides entree into the intense, hallucinogenic world of Mr. Patterson's Jean, a character based on the French playwright and poet Jean Genet, a man who has spent most of his life in prison and has learned, as he says, that the only way to survive the horror of a life deprived of freedom is to embrace that horror. Beauty is about hunger and longing and surrender. Constantly true to Genet's bleak vision, it also evokes Martin Sherman's Bent and Fassbinder's Querelle ... Mr. Patterson is a powerful presence as the outcast gay prisoner ... A hypnotic, disturbing, waking dream of a show whose harsh vision of a romantic's soul trapped (literally) in a cynic's prison will stay with you for a long time."
--- Martin Denton, nytheatre.com
"Gripping theater! ... A fervid tribute to Genet, filled with arresting language ... Patterson gives an intense, highly energetic performance. Whether he's professing his love for a fellow prisoner or re-enacting a typically humiliating morning of prison-yard exercise, he throws himself into the piece ... A thing of Beauty!"
--- William Stevenson, New York Blade News
Excerpts from Letters Received During the New York Run
"Having been in the first-night audience last evening at Theatre Off Park, I want to tell you how much I admired your gutsy, visceral and unabashedly honest performance in Beauty. As a lyricist, I marvel at composers who can write both music and words; and as a playwright, I marvel at artists who can both write and perform their own work. You're blessed with two marvelous creative gifts and you shine exceedingly in the execution of both. As a writer, I'm always inspired by soulful and heartfelt pieces. Sometimes it's the writing, sometimes the performances; however, in the instance of your work Beauty, the appreciation I felt was more than doublefold. With your words and your acting, you capture an intensity of expression and a critical mass of emotion that are unique. I extend my congratulations on the superb work. You should be rightfully proud ... As the literary text of Beauty, in a way, almost calls for a second or third listening, I hope I may have the opportunity to see the play again. You and John have created a unique piece of theatre, and your courage to put it out there is inspiring. I hope I may have the opportunity to work some day with two such brave souls. Meanwhile, I thank you for an exhilarating and mind-expanding evening."
--- Albert H. Black, Newport, RI
"I have never written fan mail before but I guess that is what this letter is. Yesterday evening I was in the audience for the 5:00 p.m. performance of Beauty. If there was ever any doubt in your mind about whether it was worth it, please know that the show had a profound impact on at least one member of the audience. I go to theater fairly often and enjoy a wide variety of different types of theater. Rarely, however, does anything touch me the way your show did ... The directness, power and intensity of your words and your actions helped me realize that perhaps my own thoughts, feelings and fantasies are not so strange or maybe even so unique. When you took your well-deserved bow at the end of the show you kindly and gently thanked us for coming. It is I, however, who greatly appreciate what you did and want to thank you. A Grateful Fan."
--- Marshall Peller, Great Neck, NY
"Thank you so much for all your kindness I have thoroughly enjoyed working with you. I also thank you for your dedication to theater & your devotion to art; it means a lot to me that the artist's quest has not been abandoned or sacrificed for solely commercial success. It keeps me going to know that there are others out there doing what they believe in."
--- Kim Patterson, House Manager (Theatre Off Park)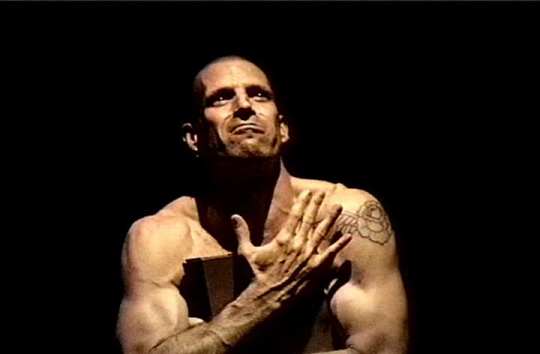 From the Highways Performance Space Engagement, Santa Monica 1998
"There's no such thing as a sweet and tender homage to Jean Genet, so Steven Patterson's one-man performance piece, rife with nudity and foul language, is bound to disturb the faint of heart ... Patterson concentrates on his prison writings, which extol a rather rough-and-tumble type of male bonding. Occupying center stage with a cot and an arc of desiccated roses as his only props, Patterson, as an ersatz Genet, graphically details prison life, including public defecation, masturbation and homosexual sex. And though much of the material is shocking, none of it should surprise those familiar with Genet's present reputation, for this poet laureate of the grittier aspects of gay life has assumed mythic stature in certain circles. Indeed, it might be said that Genet is Oscar Wilde's evil twin. If so, then Patterson must be Genet's Moises Kaufman, for this glimpse into the vulnerable heart of the artist is undeniably powerful."
--- David Mermelstein, LA Weekly
Beauty in Amsterdam
Our production of Beauty received its European premiere at the Pleintheater in Amsterdam during the 1998 Gay Games. Presented under the auspices of the IHTA (Internationaal Homosexueel Theater Amsterdam), the show played to three packed houses (and three standing ovations) on August 5, 6 and 7. Many heartfelt thanks to Hans van der Leeden of IHTA, who was our host during our stay, to our wonderful international audience, and to the staff of the Pleintheater for making the performances possible.
Beauty in South Africa
Beauty was presented in its first licensed, non-Kaliyuga production by Noel McDonald at the Windybrow Festival in Johannesburg, South Africa during March, 2000, again in July at the Grahamstown Fringe Festival, and finally in August at AMFEST 2000.