HORRIPILATION!
by John Sowle
Voted "Best of the Fringe"
[1995 San Francisco Fringe Festival]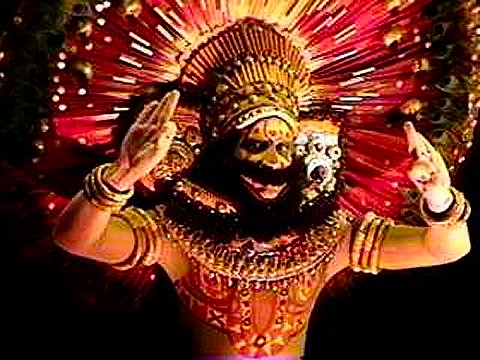 Performed by John Sowle
Directed by Steven Patterson
Designed by John Sowle, Costumes by Silvia Jahnsons
Opened September 8, 1995 at the EXIT Theatre in San Francisco, CA as part of the 1995 SF Fringe Festival.
Also performed at Open Secret Bookstore in San Rafael in 1996 and again in 1998.
"In his new solo performance art piece Horripilation!, Sowle combines the raw spiritual power of teyyam with the disciplined technique of the Natya Shastra to create a unique and powerful theatrical experience ... This show plunges audiences into a dazzling realm of color and movement virtually unknown in the West but filled with amazing insights and valuable lessons for all those who treasure theatre."
Teed Rockwell, India Currents
"A wonder to behold! ... An autobiographical exploration of the art of ancient Indian theater, playing on the dynamic between the material's rigorous content and a casual, conversational presentation ... A stunning display."
Neva Chonin, San Francisco Bay Guardian
"Sowle has a charming stage presence and his knowledge of his subject is awesome."
Dean Goodman, Drama-Logue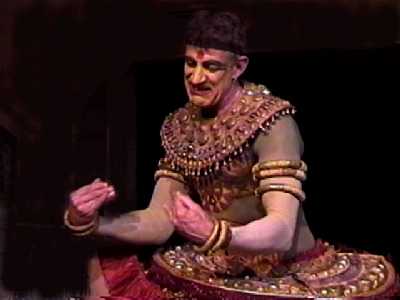 "We so enjoyed/admired/learned from your show! Exhilarating to witness and, beyond that, led to days of discussion afterwards ... We were all ready to weep or cheer with gratitude! ... Congrats to you and to Steven. It was a truly memorable night."
Nancy Langert, Oakland, CA
"Makes me wanna jump a steamer for Kerala ... Thank you for your story and your inspiration!"
Claude Palmer, San Rafael, CA

Kaliyuga Arts, 2678 Old Kings Road, Catskill NY 12414 518-943-3894
Copyright © 2015, Kaliyuga Arts