KING OF THE CRYSTAL PALACE
by C.D. Arnold
Drama-Logue Award
[Performance (William Hayes)]
AGLA Media Award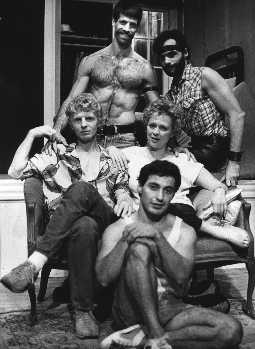 Clockwise from top - Steven Patterson, Ken Harris, Susan Burke, Vic Trevino and William Hayes
Directed and Designed by John Sowle, Sound Design by John Wilson
with Susan Burke, Ken Harris, William Hayes, Steven Patterson and Vic Trevino
Opened May 7, 1987 at the Richmond Shepard Theatre; Hollywood, CA
"An astonishingly powerful performance balanced breathtakingly on the edge of out-of-control ... Playwright Arnold's several themes -- creativity, dependency, sexual potency -- are threaded together with a gratifying precision of emotion and intent ... Among the most mature and compelling Gay plays staged so far this year -- an intelligent work for intelligent audiences, produced with professional flair. That makes it rare indeed."
--- Richard Labonte, Update
"Excellent ... Completely captures the audience with its intensity and power."
--- Sandy Dwyer, The News
"Truly devastating ... C.D. Arnold's elegiac drama never alludes directly to AIDS, but the disease hovers like a phantom presence in the household in San Francisco where the story takes place ... Written straight from the heart."
--- Susan Armine, Reader
"Sharply felt ... A strong sense of time and place and a fully textured and convincing performance by Steven Patterson as the entitled hard-leather figure and sulky playboy of the male world ... Director-designer John Sowle puts you right there inside a tattered Victorian house south of Market Street in San Francisco."
--- Ray Loynd, Los Angeles Times
"Heartbreaking ... A riveting play that should find a large audience seeking more than standard sitcom fare ... This production shows what can be done with a small budget and a large imagination."
--- Lee Melville, Drama-Logue
"Horrifying -- and effective ... John Sowle has directed each scene on the nose ... Demonstrates that sensational material can be handled with power and restraint."
--- Gray, Daily Variety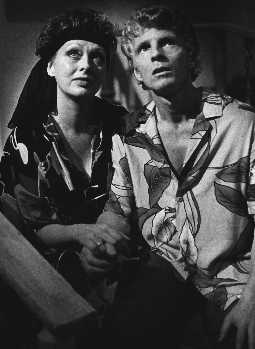 Susan Burke and William Hayes

Kaliyuga Arts, 2678 Old Kings Road, Catskill NY 12414 518-943-3894
Copyright © 2015, Kaliyuga Arts