THE COLLECTED WORKS OF BILLY THE KID
by Michael Ondaatje
SF Bay Guardian Upstage/Downstage Award
(John Sowle: Great Scenic Design)
Directed by Steven Patterson
Designed by John Sowle
Songs by The Dickel Brothers
Joseph Graham & Bill Parker, Stage Managers
with: Dustin Helmer, Carolyn Doyle, Lawrence Motta, Michael McAllister, Marin Van Young, Dana Condellire, Paul Gerrior, Russell Pachman & Matt Klein
Opened October 5, 2000 Upstairs @ The Marsh in San Francisco, CA
"The Collected Works of Billy the Kid" was made possible in part by support from CA$H, a grants program of Theatre Bay Area in partnership with Dancers' Group, designed by artists for artists, and funded by the William and Flora Hewlitt Foundation and the David and Lucile Packard Foundation.
An SF Gate eGuide ePick and a digitalcity Pick
Russell Pachman as Charlie Bowdre & Michael McAllister as Billy the Kid
"ONDAATJE'S BILLY THE KID COMES TO THEATRICAL LIFE IN SAN FRANCISCO ... A total sensory experience."
Richard Dodds, Theatre.com
"TIP OF THE MONTH ... Kaliyuga Arts, whose always excellent work runs the gamut from the sublime (Poor Super Man) to the ridiculous (The Secret of the Old Queen), unveil their latest production, Michael (The English Patient) Ondaatje's adaptation of his first novel, The Collected Works of Billy the Kid."
Douglas W. Gordy, The Slant
"CALENDAR: CRITIC'S CHOICE ... The ever-intriguing Kaliyuga Arts applies its low-tech theatrical wizardry to Michael Ondaatje's first novel, a blend of eyewitness accounts and tall tales, to look at the man behind the legend of the vicious young killer and lover. With a score by the Portland-based Dickel Brothers band, director Steven Patterson and designer John Sowle weave an aural and visual environment around the audience."
Robert Hurwitt, San Francisco Examiner
Michael McAllister with Carolyn Doyle as Angela Dickinson
"CRITIC'S CHOICE: STAGE ... Anyone awed by the film adaptation of The English Patient knows that Michael Ondaatje's prose lends itself to visual imagery. Characterized by rich lyricism, his words seem to fly off the page into unforgettable pictures and characters. Now his work leaps onto the stage with Kaliyuga Arts' production of The Collected Works of Billy the Kid. In this local premiere of the play taken from Ondaatje's first novel, audiences will see a highly stylized account of an American outlaw turned mythic figure ... Director Steven Patterson wisely anticipated the difficulty of working with dense, poetic language -- as a result, look for Ondaatje's text to be grounded in equivalent theatrical action, with props, music, actors, and other elements meshing into a living, breathing, 3-D 'aural environment'."
Kim Brooks, San Francisco Bay Guardian
"One of the more ambitious offerings in the season ... A word-drunk vision of American frontier dreams and violence."
Kerry Reid, Callboard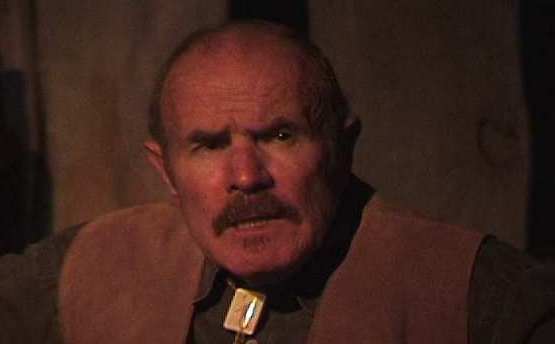 Paul Gerrior as John Chisum
"Way back before the Marlboro Man had died of lung cancer and white men's apologies were entrusted to the likes of Kevin Costner, the cowboy was still a fairly reputable role model for young boys. For a kid like me, equipped with a five-gallon hat and a six-shooter cap gun, the West offered unambiguous paragons of good guys and bad guys -- and even the bad guys weren't so bad. All that had changed, of course, by the time Marlon Brando sent Sasheen Littlefeather to turn down his Oscar, but distinguishing legend from fact in the Old West was problematic long before the O.K. Corral. So it's not surprising that Michael Ondaatje's first novel, The Collected Works of Billy the Kid, which appeared in 1970, cut deep into the psyche of one of the West's greatest legends. As if to acknowledge that old forms couldn't capture whatever truths still lurked around the American frontier, Ondaatje crafted not a linear narrative but a series of prose poems inspired by tall tales, newspaper stories, eyewitness testimonies, and photographs. His rich, complex collage illuminates not just Billy, but the Old West mythos itself.
In this stage adaptation, presented by Kaliyuga Arts and The Marsh, Ondaatje's magnificent, hypnotic language cuts to the heart of his characters in oblique and thrilling ways, refusing to view his subjects through anything other than a human lens. What emerges most strongly is a consciousness of the body, of the Old West understood through the flesh. We experience firsthand the desert wind, the stench of animals, what it feels like to pick bullets out of your lover's arm or be mystically ravaged by the sun. The writing is a remarkable act of imaginative empathy ... You can practically feel the splinters on John Sowle's rough-hewn set, a skillfully abstracted tackhouse/saloon. Director Steven Patterson utilizes the gymlike space, Upstairs @ The Marsh, to create an enveloping environment, complete with gun battles raging down the aisles, without ever descending to gimmickry. Patterson knows what he's after -- poetry given dramatic bite as lived, communal testimony ... Another ambitious, intelligent offering from Kaliyuga Arts. Much of their work finds a strange elegiac fire in the past, and this clear-sighted look at the Old West is no exception. The last photograph in Ondaatje's book is a faded snapshot of a little boy, presumably the author, proudly decked out in Billy the Kid regalia, and the peculiar innocence and loss summed up in that image is often captured in this production."
Brad Rosenstein, San Francisco Bay Guardian
Marin Van Young as Sallie Chisum
"Count on innovative Kaliyuga Arts to come up with an offbeat, intriguing production. The company's much deserved acclaim for Beauty and its much under-rated production of Brad Fraser's Poor Super Man are two fine examples of its challenging range ... [John] Sowle's circular wooden-planked stage serves as ranch house, saloon, open country, prison, hanging platform, desert, Hollywood set, and the moonlit shack where Billy is ambushed by Garrett. This epic play is poetic and handsomely underscored by the music of The Dickel Brothers ... Lanky Michael McAllister is an ingratiating, believable Billy, and the four members of his gang [Matt Klein, Russell Pachman, Dustin Helmer & Dana Condellire] deliver remarkable tintypes of dusty, good-natured men who lived by their own law. [Lawrence] Motta's Pat Garrett and [Paul] Gerrior's Chisum were particularly effective, and [Marin] Van Young and [Carolyn] Doyle provided touching portraits of the good and the bad women of the Old West."
Gene Price, San Francisco Bay Times
Michael McAllister
"The Collected Works of Billy the Kid is ambitious, even for the audacious Kaliyuga Arts. The material comes from a Michael Ondaatje novel that used stories, poems and eyewitness accounts to re-create the life behind the legend. Director Steven Patterson has his nine energetic performers moving in and around the whole room. They come together on John Sowle's weather-boarded center stage, where kerosene lamps create a moody and nostalgic Western movie set ... Each actor is given a strong monologue. There's Chisum (Paul Gerrior) with a shaggy-dog story of a man whose life's ambition was to breed a race of mad dogs. There's Marin Van Young's Sallie, who denies she's Billy's girlfriend but reveals her crush in her every word. There's Carolyn Doyle's Angie, cynically relating Boot hill statistics -- over 300 of the dead buried there died violently, two of them women, both suicides. And Lawrence Motta, Matt Klein and Russell Pachman are strong in their individual moments. As Billy, Michael McAllister swaggers on, telling rough stories of vomiting into the wind after an all-night drunk or shooting a friend 'over some mix-up.' This Billy is a charming killer who lives in the moment and can't explain, even in his wrenching death monologue, how or why he's an American legend."
Lee Brady, Pacific Sun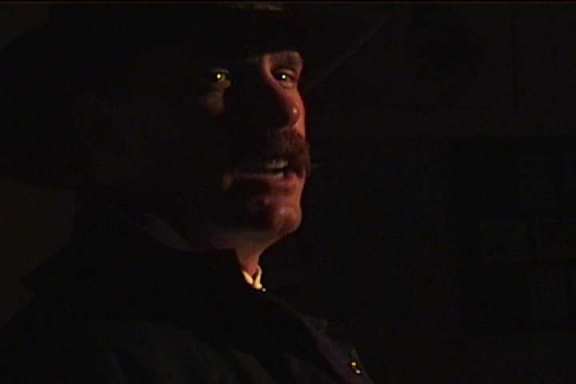 Lawrence Motta as Pat Garrett
"Rich and evocative ... San Francisco's Kaliyuga Arts, an enterprising theater group with a reputation for interesting choices, attacks Billywith gusto ... Michael McAllister brings charm to the role of Billy, the misunderstood murderer around whom the play revolves. He cavorts frat boy-style with his merry band of bad guys and reveals his sensitive side with good girl ranch gal Sallie Chisum (Marin Van Young) and bad girl dance hall gal Angela Dickinson (Carolyn Doyle). McAllister is an engaging performer ... Lawrence Motta is a commanding presence as Sheriff Pat Garrett, Billy's nemesis. Described as an 'academic murderer' and the 'perfect assassin,' Garrett is the man who lives to bring Billy down. Motta conveys the complicated menace necessary to make the character more than just a killer robot in a black cowboy hat."
Chad Jones, Oakland Tribune
"Bristles with condensed poetic images ... The story that emerges, in a creatively jumbled chronology, is secondary to the portrait of Billy the Kid. Slowly but irresistibly, the outlaw who looks like a mentally unbalanced punk in the famous photograph develops into a compelling, repugnant but charismatic and strangely sensual figure. Even that portrait is secondary to the spell woven by Ondaatje's rich but austere prose ... Patterson has chosen wisely from the text, combining some characters and rearranging the material to enhance the dramatic flow and deepen the impact of some of the most striking passages. Sowle has done a fine job of framing the work. Broad, rough planks form a circular stage and crude, barn-like rear wall, lit in punishing sunshine and evocative shadows. The odd assortment of furnishings -- old lanterns, bentwood chairs, a 1930s-era radio -- emphasize the time-jumping format. Sowle's grungy costumes run the range from gritty realism to cowboy kitsch. Country string-band songs by the Dickel Brothers, occasional movie soundtracks and well-chosen sound effects (many produced on a simple drum and wind machine beside the stage) add to the realism-meets-pop-art effect ... Michael McAllister plays Billy with an easy, often engaging boyishness. Tall, black-clad Lawrence Motta captures the casual menace of Pat Garrett, the 'ideal assassin' appointed sheriff to destroy Billy and his gang. And Paul Gerrior is appropriately avuncular as the rancher John Chisum, especially effective in his low-key delivery of a long, grisly story about a man eaten by his own dogs."
Robert Hurwitt, San Francisco Examiner

Matt Klein, Dustin Helmer, Carolyn Doyle, Russell Pachman & Dana Condellire
"An SF Gate eGuide ePick [Oct. 10 - 15] ... Director Steven Patterson utilizes The Marsh's upstairs space well: actors sprint up the aisles, gunfighting on John Sowle's versatile set. But Patterson knows when to let Ondaatje's poetic and visceral language shine through -- John Chisums's (Paul Gerrior) haunting tale of 40 inbred dogs and Billy's (the electric Michael McAllister) rant in the desert are uninterrupted by action or extraneous dialogue. The talented ensemble provides much of the narrative, making the audience feel both a part of the action and a member around the campfire."
Karen McKevitt, SF Gate
"Michael McAllister's Billy has a relaxed, amiable presence and and attractive grin. Lawrence Motta possesses great stage presence as Pat Garrett, and as Sallie Chisum, Marin Van Young is engagingly girlish. Carolyn Doyle, as Billy's girl, Angela Dickinson, is energized and alive ... John Sowle provides a beautiful set."
Joe Mader, San Francisco Weekly
Michael McAllister
"A lyrical, colorful pastiche ... This fragmented stage version of Michael Ondaatje's first novel swings wildly through the desert, and the life and mind of the legendary outlaw. Bucking conventional narrative for a pastiche of mythical accounts, tall-tales and violent prose poems, author Ondaatje (The English Patient) displays a talent for vivid language. From an old ranch owner's dark tale of a mad breeder of hounds to the Kid's harrowing soliloquy of a five-day ride through the desert as a chained, hatless prisoner, the cascading, sometimes frantic dialogue brings the wild west alive and sheds imaginative light on the outlaw's nature ... The ensemble cast draws on the open space of The Marsh Theater's upstairs studio to thrust the audience into the center of the action. Star Michael McAllister mines a deep vein of skills in handling the formidable role of the Kid. Lawrence Motta does a fine job as the imposing sheriff, Pat Garrett, and supporting actor Matt Klein stands out as the eldest, most haggard gang member, Tom O'Folliard."
Mark Follman, San Francisco CitySearch
Paul Gerrior, Russell Pachman, Marin Van Young, Lawrence Motta, Carolyn Doyle & Matt Klein
"I went to see the preview of Billy the Kid tonight ... You know how picky I am and how rarely I rave about a show but I can't think of enough good things to say. It was stunningly good, beautifully and cleverly staged with the attention to detail that I think is necessary for a great show. I liked all of the actors and some of the performances were amazing. The kid who plays the Kid has one very long monologue in the second act that made the hairs on the back of my neck stand up. I left feeling totally exhilarated because I had seen small theatre at its very best and its been a while since I've felt like that -- maybe even since Sons of Ulster and I was just a tad biased about that show! The Dickel Brothers' music was perfect for it. Oh, I do wish you could see it ... For no other reason than sheer tiredness, having worked on half a dozen shows this year, I had decided that I needed to take a break until next year, trying to avoid burnout, but then tonight after about twenty minutes I began to feel this tingle running through me as though someone had relit the pilot light! I do hope they do well -- I certainly will be encouraging people to go and I will go back and see it -- if it was this good in preview I can't wait to see it a couple of weeks in!"
Alison Tassie, Theatre Professional in an 10/07/2000 e-mail to actress Janet Ward

Michael McAllister

Kaliyuga Arts, 2678 Old Kings Road, Catskill NY 12414 518-943-3894
Copyright © 2015, Kaliyuga Arts