THE PILGRIM PROJECT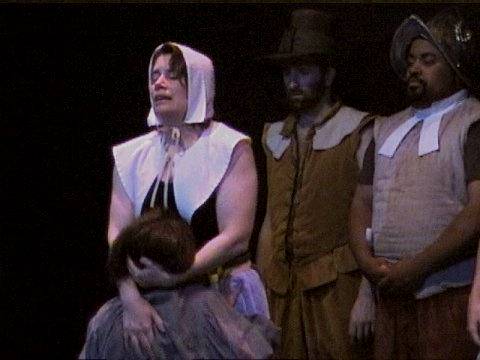 Opened September 7, 2001 at EXIT on Taylor, San Francisco, CA
Presented as part of the 2001 San Francisco Fringe Festival
Conceived, Directed and Designed by John Sowle
Scripted by Dan Carbone
Stage Manager ~ Joseph Graham
Costumes ~ Steven Patterson
Combat Consultant ~ Lawrence Motta
With Sidney Burrows as Miles Standish, Carolyn Doyle as Elizabeth Hopkins, David Austin-Groen as Edward Winslow, Matt Klein as Squanto, Tristan Thunderbolt as Massasoit, Bill Parker as George Soule, Steven Patterson as William Bradford, Jennifer Taggart as Dorothy Bradford and Oceanus Hopkins, and Dawn Walters as Mary Chilton.
Bay Area Theatre Critics' Circle Award Winner / Original Script
3 San Francisco Fringe Festival "Sold Out" Awards
"Best of Fringe" Citation for "Most Creative Use of Space"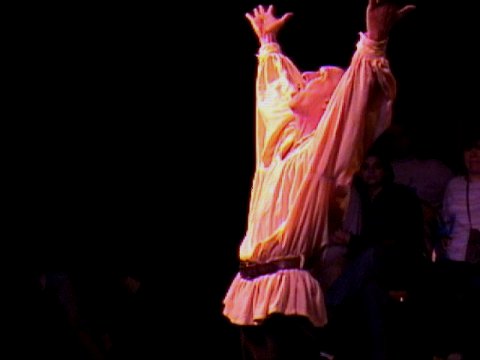 Bill Parker as George Soule
"Outstanding! ... A bizarre account of the Pilgrims' arrival on the Mayflower and their colonization of the new land, written by absurdist Dan Carbone. A paper turkey burns and a Native American speaks in a proper British accent in this fusion of humor and stark truth."
Karen McKevitt, SF Weekly
"Wildly theatrical! ... A great sense of language and physicality (and a powerhouse cast of nine)."
Adam Sandel, SF Examiner
"Hysterical! ... A raucously comic yet brutally honest history lesson that dishes the real dirt on just how expatriate English Pilgrims 'settled' wild America."
Dennis Harvey, digitalcity
"Inventive! ... Alternately funny, confusing, and intriguing."
Jean Schiffman, Back Stage West
David Austin-Gr
oen

as Edward Winslow

"Fascinating! ... The serious historical details are counterpointed by humor in surprising moments. The hysterics, the deceivers, the insidious politics behind the colonization, to say nothing of the relationship with the indigenous population, all combine to give this a rich texture ... John Sowle and Dan Carbone have given us a rich new look at our earliest American history."

Vince Vitale, Daily Starr

"5 Star Rating! ... Who would have thought a play about the Pilgrims would be so lively, engrossing and just plain fun? Ambitious concept, good writing, wonderful acting, dazzling stage pictures: yes, another Kaliyuga Arts production."

JT, Daily Starr

"Highly Recommended!!! ... Interesting script, some fine acting, great set ... The best thing I've seen at this year's Fringe."

Goreski, Daily Starr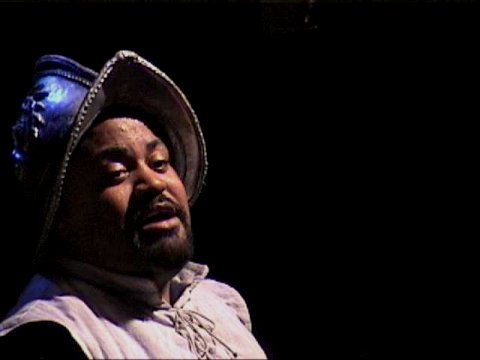 Sidney Burrows as Miles Standish
"A more inept group of immigrants never set foot on an American shore. Fleeing England to establish a separate church of their own, they hired a North Sea skipper to take them to the Netherlands. He picked them off a dark beach one night, collected their money and delivered them right back to the English authorities. Extricating themselves from this setback, they reached Amsterdam. They lived there and in Leyden for 2 years in religious freedom and holy poverty. Then, putting aside fears of becoming 'meate for ye fishes' or of losing their scalps to Indians whose practices caused 'ye bowels of men to grate within them,' some of them sailed off, in company with a group of fortune seekers, to establish a fishing colony in America. The remainder were to come over later. In America the pioneers discovered that they had forgotten to bring nets and small fishhooks, that none of their party knew the least thing about fishing and that once again they were 'in ye briers.'
This was in 1620, and these were the Pilgrim Fathers, 'ye Saincts and Strangers' (or churched and non-churched members) of the Old Colony they established at Plymouth ... They were stubborn, opinionated and passionate, and much given to asking God stridently why they were afflicted with so many stubborn, opinionated and passionate foes, friends and bystanders."
Of the 104 "Saints," "Strangers," hired-hands and servants that came over on the Mayflower more than half died in the first year of exposure and malnutrition. More starved the next couple of years because they couldn't grow English crops in the New World. They were courageous bigots who managed to maintain their integrity for a time in spite of enormous hardships. Ultimately the even more pious Puritans, who settled first in Boston, were more successful and the Pilgrim community lost its individuality.
Steven Patterson as William Bradford, Matt Klein as Squanto
Kaliyuga Arts' production of The Pilgrim Project began with the assembly of a small ensemble of actors who met in weekly workshops over the course of eight months to develop a work based on the experiences of the Pilgrims and their Indian nemeses and friends in collaboration with playwright Dan Carbone. What we wound up with is a very dynamic, physical piece which utilized the acting exercises of Jerzy Grotowski as a starting point. Our "finished product" was presented as part of the San Francisco Fringe Festival. You can also click HEREfor further details.
Steven Patterson as William Bradford
Click here for more on the Pilgrims Click here for more on Jerzy Grotowski

Kaliyuga Arts, 2678 Old Kings Road, Catskill NY 12414 518-943-3894
Copyright © 2015, Kaliyuga Arts