THE SECRET OF THE OLD QUEEN
A Hardy Boys Musical Adventure
SF Bay Guardian Upstage/Downstage Award
(John Sowle: Great Scenic Design)
Book by Timothy Cope

Music and Lyrics by Paul Boesing

Directed, with Sets & Lighting by John Sowle

Musical Direction & Keyboards by Alan Fricke

Choreography by Jayne Zaban

Costumes by Jeffrey Simpson

Stage Managers - Joe Graham and Bill Parker

Scenic Artist - Margit Dupont
with

Patrick Michael Dukeman, Gina R. Falchetta, Jared Fortunato, Jessica Jackson, Shelley Lynn Johnson, Richard Pardini, Steven Patterson, Stephen Pawley & Jonathan Simpson
Opened June 1, 2000 at New Conservatory Theatre Center, San Francisco, CA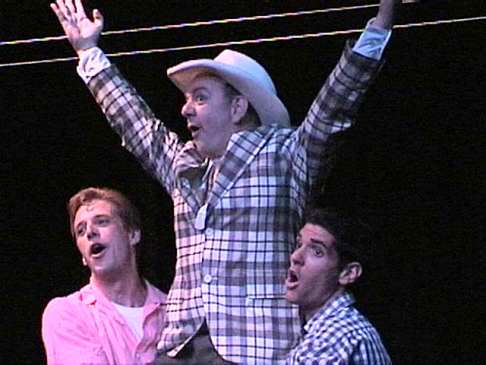 Patrick Michael Dukeman, Stephen Pawley and Jared Fortunato
A Digital City:San Francisco Pick!
"CAPTIVATING! A thrilling mystery ride... John Sowle has directed a hilarious look at the Hardy Boys' detective series. The dialogue is delicious double entendre, the cast is vibrant and winning and the music and lyrics by Paul Boesing are just terrific. One song, "Dance With Me", would surely have won a Tony Award if the show were in New York. The book about the two 'innocent beyond belief Hardy Boys' by Timothy Cope is funny and goofy. There's real wit here! This mystery about an 'Old Queen' is just good old-fashioned fun ... RATING: FOUR GLASSES OF CHAMPAGNE!"
Lee Hartgrave, San Francisco Spectrum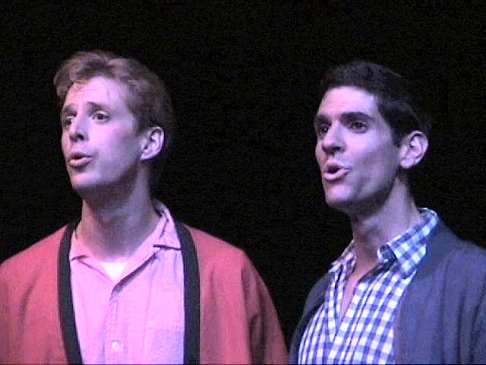 Patrick Michael Dukeman & Jared Fortunato as The Hardy Boys
"A smash hit! A rewarding evening of light entertainment ... Genre parody is one of the most difficult feats to sustain successfully in the theatre, but The Secret of the Old Queen, a musical spoof of the old Franklin Dixon Hardy Boys mystery book series, as well as both the Mickey Mouse Club and Shawn Cassidy/Parker Stevenson TV series versions, does a bang-up job ... Both Patrick Michael Dukeman as fair-haired Joe and the muscular dark-haired Frank, Jared Fortunato, have terrific singing voices and play their roles with just the proper amount of ingenuous 'gee-whiz' naivete ... Paul Boesing's music is tuneful and peppy. Book writer Timothy Cope brings the gay content to the fore, although our stalwart heroes remain oblivious to the innuendo surrounding them. Clever and on target ... The show probably has less than 10% of the budget of Miss Desmond Behind Bars, but makes up in sheer inventiveness what it lacks in production values. In fact, the tacky cardboard cutouts that comprise the sets (by director John Sowle) just add to the ensuing hilarity ... I enjoyed this production most of the three I reviewed. If you were ever a fan of either the book or TV series, Secret of the Old Queen is a don't miss!"
Douglas W. Gordy, The Slant
Jessica Jackson (Iola Morton) and Gina Falchetta (Callie Shaw)
"Goofy and affectionate! ... After a hairraising escape from their plane, Frank (Jared Fortunato) and Joe (Patrick Michael Dukeman) encounter confirmed bachelor/art collector Cornelius Digby (played by Stephen Pawley with a delightfully cracked and fey manner). He hires them to guard his newest acquisition, the Macedonian Cigar (or 'the Greek Butt') at a gala at the Bayport art museum. When their father, Fenton Hardy (Steven Patterson, in a spot-on lockjawed and upright performance), goes away on a mysterious government assignment, the two boy detectives have to follow their own addled instincts. They also have to deal with their neglected girlfriends, Iola (Jessica Jackson) and Callie (Gina R. Falchetta), and Iola's brother Chet (Jonathan Simpson), of the famously huge appetite ... Sowle's cutout set pieces add a touch of whimsy to the proceedings. The cast displays pleasant voices and a good grasp of the comic book performance style required in Cope's book."
Kerry Reid, Backstage West/Drama-Logue

Patrick Michael Dukeman, Jonathan Simpson (Chet Morton) & Jared Fortunato
"The Hardy Boys are embroiled in a queer plot full of gay song and dance! Patrick Michael Dukeman and Jared Fortunato put their all into portraying Frank and Joe as hokey naifs unbent by the preying "undesirables" that surround them in the seemingly all-American town of Bayport ... A funny, lightly subversive script by Timothy Cope ... The singing by the cast is grand, especially that of the two Hardy beaus, Jessica Jackson and Gina R. Falchetta, and the over-the-top millionaire eccentric Cornelius Digby played by Stephen Pawley."
Marke Bieschke, San Francisco CitySearch
Jared Fortunato & Patrick Michael Dukeman with Stephen Pawley as Chief Collig
"Delightful visuals and ingratiating performances!"
Gene Price, San Francisco Bay Times
"A hysterical masterpiece!"
Kathy Fries, cityhits.com
"Delightfully wry! ... A cheery satire that is tunefully rendered."
Richard Dodds, Bay Area Reporter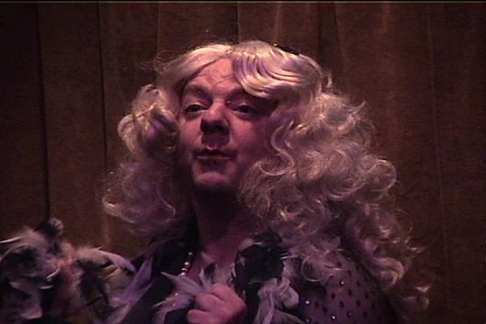 Stephen Pawley (in drag) as Cornelius Digby
"My husband and I returned to Dana Point today [July 17th], and I want to take this opportunity to tell you how much we enjoyed the production of The Secret of the Old Queen. For all of us in our group, it was truly an evening that will be long remembered. The author and composer captured the form and spirit of the series with great attention to detail and real affection for the characters. I'm sure they were absolutely delighted with your production of the play. I can't say enough for the cast! The performances were outstanding and totally on target. I am going to have a lot of great visuals swirling through my memory for quite some time to come ... My husband and I haven't attended a live theatre production in quite a long time and the evening brought us a reminder of just how much we miss the energy and sheer enjoyment of live performances -- there really isn't anything like the theatre! Warmest regards."
Vicki Broadhurst, Dana Point, CA
Jessica Jackson, Gina Falchetta, Jared Fortunato & Patrick Michael Dukeman
"Did I ever tell you how much I enjoyed the Hardy Boys? That particular stage at New Conservatory felt much too tiny to hold the talent on stage. I was completely delighted. And the cardboard set pieces cracked me up. They were perfect! I'm always mesmerized by your incredible staging. I was lucky enough to be there the night the author was in the house and I hope he was pleased with the production. I sure was and I hope you two are too."
Nina Barlow, Mask-maker & Visual Artist, San Francisco, CA
"Saw your show last Sunday matinee and enjoyed it immensely! I'm an avid Hardy Boys collector and gay to boot, so really appreciated the show from both directions. Live in the Castro with my collection of all the original books and revised titles. My only complaint about the show -- not enough Aunt Gertrude!"
Lyn Calerdine, San Francisco
Steven Patterson (Fenton Hardy) and Richard Pardini (The Lout)
"Besides the usual and well deserved kudos to Patrick, Stephen Pawley (Rita Abrams, a producer based in Mill Valley, was in the audience last night. She said that Stephen Pawley's performance was 'Broadway...No one could do it better.' She also identified the show as a candidate for a cult classic), and Shelley, I would like to mention outstanding turns by Jessica Jackson and Jonathan Simpson -- they have star quality and inhabited their one-liners with aplomb. Names to watch. Jonathan took the more difficult road -- his character was basically sweet and innocuous. Instead of his brimming with melodrama during the development of the play, he stayed in character so that when it was time for his one big line, 'We do stuff', it came right from an unspoiled heart. What a nice surprise. I was impressed by Jared too. He and Patrick play off each other beautifully. Jared has just the right comic coltishness to carry this off. If I were a playwright, I'd write a play for him. Especially effective were Steven Patterson and Richard Pardini. What energy!! Real people in the guise of satire. Gina is a knockout. Her dry and droll reading of the part was a delight. What a great evening in the theater. I really enjoyed the show. Twice."
John F. Borden, Theatre Professional, San Francisco

Shelley Lynn Johnson as Electra Carstairs

Kaliyuga Arts, 2678 Old Kings Road, Catskill NY 12414 518-943-3894
Copyright © 2015, Kaliyuga Arts