DO LET US GO AWAY. A PLAY
and
THREE SISTERS WHO ARE NOT SISTERS
Do Let Us Go Away. A Play
by Gertrude Stein

From left: June Stoddart, Mary Holmström, Janet Ward and Kathryn Trask
Directed and Designed by John Sowle, Costumes by Margit Dupont, "Canción de la Gallina" composed by Jesús Guillen, Stage Managers Joseph Graham and Bill Parker
with Susan Ayalin, Michelle Darby, Mary Holmström, Jenna Logan, June Stoddart, Kathryn Trask, Janet Ward, Bill Parker, Steven Patterson and Christoph Schmid
Three Sisters Who are Not Sisters
An opera by Gertrude Stein & Ned Rorem
1998 San Francisco Bay Guardian Upstage/Downstage Award
[Nicest Surprise]

From left: Steve McKearney, Linda Noble and Alexis Lane Jensen
Directed and designed by Steven Patterson
With Linda Noble, Alexis Lane Jensen, Steve McKearney, Jonathan Nadel, John Rose, John Sowle, and Dwight Okamura on piano
Opened April 28, 1998 at the EXIT Theatre; San Francisco, CA
Presented on a double-bill as part of EXIT Theatre's 1998 Absurdist Season
"Critic's Choice! Seven Steins in one act! ... This double-bill of plays by Gertrude Stein offers two distinct glimpses of the doyen of modernism. Like a cubist postcard, Do Let Us Go Away contains scraps of Majorcan encounters with French servants, English neighbors, dancing Spanish peasants, and the hated Germans, as well as distressing war news and marital squabbles between Gertrude and Alice. But as always in Stein, all these voices are really her own, a fact cleverly registered by director and designer John Sowle, who makes all seven women in his ensemble into Stein clones. With their cropped hair, matronly vests, and sensible shoes, they become fragments and channelers of Stein's unique sensibility. Sowle has hooked into the essential musicality of Stein's language and Jenna Logan, Janet Ward, Kathryn Trask, June Stoddart, Susan Ayalin, Michelle Darby, and Mary L. Holmström find emotional subtexts in Stein's elliptical banter ... [In] Three Sisters Who Are Not Sisters, a group of children embark on a murder game with such seriousness that a true mystery results. Stein's childlike playfulness and Rorem's score are in perfect, witty harmony. Linda Noble sings splendidly as ringleader Jenny, and Jonathan Nadel does bright work as her prowling antagonist. Director and designer Steven Patterson has given the piece a Victorian staging à la Edward Gorey that's ideal for its friskily macabre tone. The result is an absolute charmer that make-believes so well it calls reality into question, even its own."
--- Brad Rosenstein, San Francisco Bay Guardian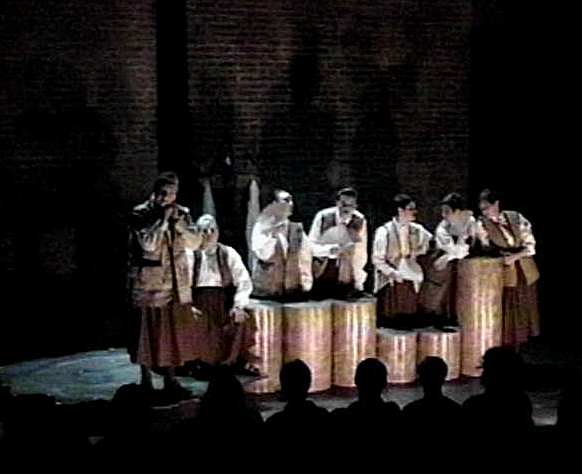 Kathryn Trask, June Stoddart, Jenna Logan, Susan Ayalin, Mary Holmström, Michelle Darby and Janet Ward
"EXIT Theatre continues the 1998 Absurdist Season with two pieces by the mistress of 20th-century avant-garde literature, Gertrude Stein. In 1916's Do Let Us Go Away. A Play, directed and designed by John Sowle, a shifting group of Gertie clones plays out domestic squabbles and romantic intrigues on Mallorca, where the 'real' Gertie and Alice have come for an extended holiday. Janet Ward deserves kudos as the narrator for keeping the admittedly confusing action on course, and June Stoddart (who bears a stunning resemblance to Stein) and Kathryn Trask play Gertie and Alice with a blend of gentle befuddlement and irritation. Is it about colonialism and class relationships? Or are the conflicts onstage a microcosm of the Great War, raging at the time? Who knows? It's Stein! A smartly paced and skillfully interpreted take on a difficult piece ... Three Sisters Who Are Not Sisters, a Ned Rorem mini-opera based on Stein's 1943 play and directed by Steven Patterson (who also designed the deliberately tatty music-hall set and lighting), plays like a conventional 19th-century murder melodrama with Stein's famous repetitions and syntactical eccentricities woven into its fabric. All five of the singers do a wonderful job interpreting the gloriously silly lyrics (and aping the mannerisms and facial expressions of high melodrama, to great comic effect), while musical director Dwight Okamura keeps the ivories jumping! ... If you've never seen Stein onstage, EXIT provides a perfect forum with both these pieces."
--- Kerry Reid, San Francisco Metropolitan

Alexis Lane Jensen and Linda Noble: "There, there is Helen ... and she is dead!"
"Wacky! ... Do Let Us Go Away. A Play is set during World War I and focuses on how Stein and her lover escaped to Majorca. This absurdist play had most of the actresses dressed like an amalgamation of Gertrude Steins, all butch hair and peasant garb. Which was funny in itself, but when they started saying strange things loosely related to a war, an apartment, and I'm not sure really what else, I really started to giggle. I think the funniest part was watching which audience members surrendered to laughter and which to bafflement. I laughed ... The second piece, Three Sisters Who Are Not Sisters, was a melodramatic murder-mystery-made-opera. Here the cast of players is made up of three sisters who aren't really sisters (one in drag), dressed in their nighties, alongside two buff brothers (who really are brothers) in their longjohns. They're bored so they decide to play 'murder mystery.' In a quick half hour, there are lots of laughs and murders, as the dead rise in their pajamas ... [I] thoroughly enjoyed both plays!"
--- Kate Friedman, BayInsider.com

DO LET US GO AWAY. A PLAY. Final Curtain Call with the full cast
"Hot Pick! ... Delivers that fabled Steinian wit at full impudent force ... Historically intriguing, this evening will send you out on an impish high note. A cartoon-comic delight!"
--- Dennis Harvey, sanfrancisco.sidewalk.com
"Seeing your Stein plays the other night made me so happy that live theatre exists, and that you are doing it."
--- Janet Keller, actress; Oakland, CA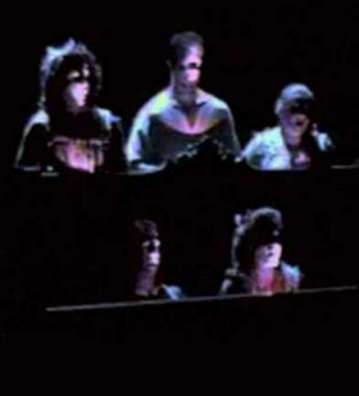 THREE SISTERS WHO ARE NOT SISTERS. Clockwise from upper left: Steve McKearney, John Rose, Alexis Lane Jensen, Linda Noble and Jonathan Nadel

Kaliyuga Arts, 2678 Old Kings Road, Catskill NY 12414 518-943-3894
Copyright © 2015, Kaliyuga Arts