AN IMPERSONATION OF ANGELS
or
THE ENIGMA OF DESIRE
(Impressions of the Life of Salvador Dalí)
by Dan Carbone
a World Premiere presented by Kaliyuga Arts
Steven Patterson (Young Dali), Eric Blue (Gala Dali), Dan Carbone (Old Dali)
Directed and designed by John Sowle
Costumes by Keiko Shimosato
Masks by Nina Barlow
with

Dan Carbone, Kathryn Trask, Paul Gerrior, Christian Cagigal, Erica Blue, Alison Sacha Ross,
Pavlos Psoinos, John Baumann, Bill Parker, and Steven Patterson

Joseph Graham and Bill Parker, Stage Managers
Margit DuPont, Scenic Artist

EXIT on Taylor
FEB 19 - MARCH 13, 2004
"Steaming across the Atlantic toward Manhattan (and into the arms of the wealth and notoriety that would eventually destroy him), the painter Salvador Dali is assaulted by hallucinatory scenes of his past, present, and future -- from his childhood in Catalonia to
his final days at the St. Regis Hotel in New York and even into the beyond (cue the theremin). Dali's incredible life story is ideal fodder for Carbone's unique brand of creative insanity. A surreal, tragicomic masterpiece!"
Laughing Squid
"An Impersonation of Angels is as funny as it is tragic -- it really does earn the meaning behind the double-mask symbol for drama. Unlike his earlier work, this play isn't just a wacky surreal romp through Dan's or Dali's brain. It's much more complex ... I enjoyed watching it not once but three times. Each time, I got a little bit more out of it. Perhaps the best thing about Impersonation was the fact that there's always more to see."
Jennifer Gwirtz, The Performers'/Artists' Voice
"Flashes of pure brilliance -- both hilarious and sublime ... [A] teeming life of Dali, performed in the manner of a surreal painting ... Christian Cagigal stands out in the cast as Federico Garcia Lorca, giving an eloquent speech about poetic inspiration, or duende; later he dies with harrowing musicality as a bull, stabbed in the back with colorful red picas, his masked head resting on a silver platter while Dali talks to his treacherous wife Gala about evil and love and a maternal woman chirps like a bird in a tree."
Michael Scott Moore, SF Weekly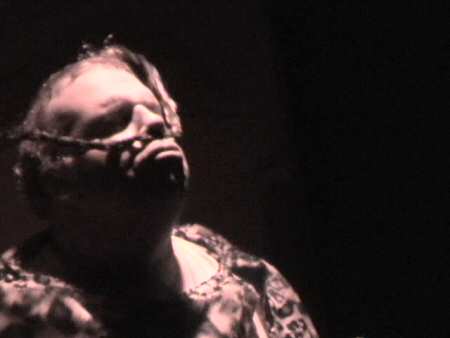 Dan Carbone
"A sometimes witty, often perplexing, but more often fascinating and impressionistic vision of the painter's life. This extensive revision of a work from EXIT Theatre's earlier Absurdist Series treats the surrealist painter surrealistically, as Dali might well have imagined himself ... Carbone has condensed the rise and fall of an artist into a kaleidoscopic montage of a man whose tragedy was trading artistic integrity for infamous notoriety."
Gene Price, SF Bay Times
From left, Dan Carbone (Old Dali), Paul Gerrior (Dead Baby Salvador), Christian Cagigal (Federico Garcia Lorca),
Kathryn Trask (Lidia), Bill Parker (Pope John-Paul I), John Baumann (Cowman) and Pavlos Psoinos (Senor Trayter)
"Striking! ... a surrealist-form spoof-drama take on aspects of Dali's life, work and myth."
Rob Hurwitt, San Francisco Chronicle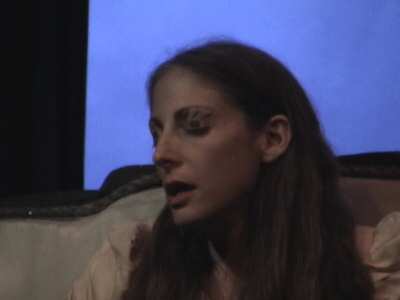 Alison Sacha Ross
"What a treat! Goddamn, what a huge undertaking! I am amazed by what John did in that space. When it first started, I had resistance -- but gave in to it quickly and just let it sweep over me. What a weird ride. I liked so much about it -- the sound choices and the lights and the sets and costumes were all remarkable. And the actors were right on. You can all feel very proud ... Absolutely brilliant."
Joe Besecker, playwright; San Francisco, CA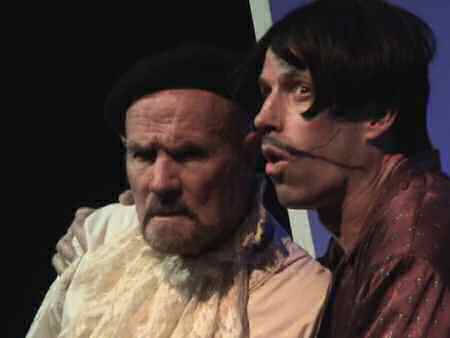 Paul Gerrior (Dead Baby Salvador) and Steven Patterson (Young Dali)
"Very inspirational and 'wacky', which works for me!"
Iván Vargas-Gatica, actor; San Francisco, CA

AN IMPERSONATION OF ANGELS was made possible in part by support from
CA$H, a grants program of Theatre Bay Area in partnership with Dancers' Group, designed by artists for artists, and funded by the William and Flora Hewlitt Foundation, the Irvine Foundation and the San Francisco Hotel Tax Fund/Grants for the Arts.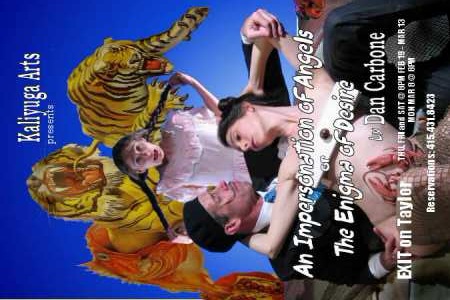 Why Dali? Besides being one of the most outrageous characters of the past century, Salvador Dali, master painter and master charlatan, is a profound example of what is means to be an artist in our modern world. The painter's dilemma is the dilemma of each artist, i.e.: can art continue to exist and bloom once it is mercilessly shoved into the blazing spotlight of fame and fortune. As the great film director Rainer Werner Fassbinder once said, "Nothing is more terrifying than dreams come true." Salvador Dali spent his entire life making dreams come true. AN IMPERSONATION OF ANGELS explores the forces which helped shape this Master of Dreams and the price paid by the artist who dares to expose the realm of the Gods.
The play touches upon many people known to inspire and shape the Dali that the public came to know. People such as his dead brother, also named Salvador, who died before the painter was born, and who hangs in Dali's head like a bat. And the great poet, Federico Garcia Lorca, whose unrequited love for Dali haunted the painter till the end of his days. But there are other equally important characters who have been forgotten by history and who are resurrected in this play. Characters from Dali's childhood in Cadaques such as Lidia Noguer, the crazy mad wife of a fish monger, who spawned an entire art movement, and was admired not only by Dali, but by Lorca, Picasso, and countless other painters and poets. And Señor Trayter, Dali's grade school teacher, another pivotal figure, who inspired the artist with his library stuffed with grotesque oddities, such as a dancing frog skeleton.
Most of the innovative work that Salvador Dali is best known for was created in a time span of less than ten years -- from the mid 1920' to about the mid 1930's. During much of this time Dali's wife, Gala, created the atmosphere that allowed Dali to paint by helping to stave off his inherent madness through her endless praise and shrewd insight. Gala's belief in the young, as yet unknown genius' creations was vital to Dali's creative process. But once the world came to know Salvador Dali, his relationship to Gala reversed itself in a nightmarish way. Gala became so consumed with greed that she determined to turn "Salvador Dali" into a factory that churned out paintings on demand. Dali was a not-unwilling participant in this drama. He knew exactly what was happening and played along with it as some sort of a masochistic joke. Dali paid dearly for this fiendish collaboration -- his status as an artist became diminished and in the art world, he became known as being more con-artist than actual artist. Yet despite all, Dali still hoped until the very end of his life for a final breakthrough that would place him in the realm of his revered masters Raphael and Vermeer. He hoped for it because he felt that he, above all other modern painters, had the potential to achieve it. But he also feared such a breakthrough, for he felt that if he finally created a true masterpiece, his life would end. And of all of Dali's paranoid fears -- and he had many -- it was death that he (and his wife Gala) feared the most.
Dan Carbone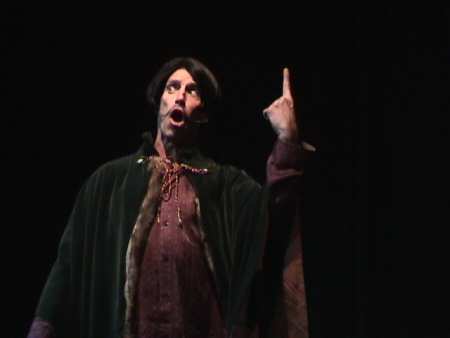 Steven Patterson (Young Dali)

Kaliyuga Arts, 2678 Old Kings Road, Catskill NY 12414 518-943-3894
Copyright © 2015, Kaliyuga Arts