ALL THAT FALL
by Samuel Beckett

with
Helen Calthorpe*, Guenevere Donohue, Kate Hamill*, Daniel Hall Kuhn*, Rand Mitchell*, Steven Patterson*, Erik Kever Ryle*, Dan Seda*, Bradley Wayne Smith, Matt Walker*, Janet Ward*
"An exhilarating discovery ... All That Fall is one of the author's most infectious works, playfully peppered with rustic sound effects and reminding us that, even at his most tragic, he remains a comic playwright." -- Mel Gussow, The New York Times

May 24 - June 3, 2006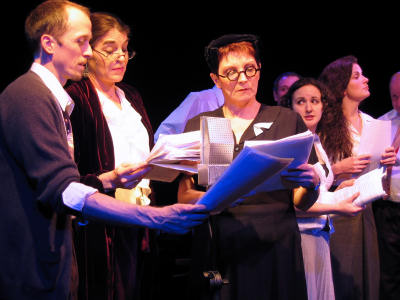 From left, Daniel Hall Kuhn as Mr. Tyler,
Helen Calthorpe as Mrs. Rooney, Janet Ward as Miss Fitt
"Samuel Beckett's plays are rarely set outdoors, for the dark and bare interior better suits the twilight ruminations of Beckett's protagonists. When nature is depicted on his stages, it is often in decline: scorched grass; a single, nearly bare tree. But All That Fall, a radio play composed in 1956 and first broadcast by the BBC in 1957, opens with an aural burst of nature. A bucolic chorus of sheep, bird, cow, and rooster provides the first in a series of lively accompaniments to Maddy Rooney's journey along a country road in Ireland toward the local railway station to meet her husband Dan on what may be his one-hundredth birthday.
"Rather than reflecting the play's rural setting, however, the Kaliyuga Arts production recreated the kind of 1950s-era radio studio whereAll That Fall was originally performed. Hosted at the historic Cherry Lane Theatre in Greenwich Village to celebrate the playwright's centennial year, Kaliyuga staged the show in an intimate sixty-seat studio space. Boxy silver microphones flanked a massive floor-model radio from the period stacked with books by and about the author. Chairs lined rear and stage-left curtains to provide seating for the large cast, who waited onstage to speak their parts. In keeping with the period setting, the company wore 1950s clothing dominated by sepia browns and bright creams, the men with retro-pattern neckties and suspenders and the women in flowing silk dresses. Dublin-born Helen Calthorpe, as Mrs. Rooney, wore a maroon velvet suit with a long skirt and a ruffled blouse and stood apart from the rest of the cast in front of the stage-left microphone. The costume choices contrasted the company's recreation of a mid-century sound stage with the script's evocation of the Irish countryside, thus emphasizing an interplay between the visual and the verbal that resonated throughout the production.
"Indeed, the radio-play staging allowed the audience to witness and enjoy the sight of sounds being made, and the cast expertly executed the script's plentiful acoustic requirements throughout the performance. In the stage-right area, sound designer Sara Bader trod a small parcel of gravel to simulate obese Mrs. Rooney's heavy, plodding feet. Bader and the other Foley operator, Jack Dyville, used a collection of instruments to generate the mechanical noises that punctuate and indicate the action: cart, locomotive, bell, horn. Most delightfully, the actors reached beyond the boundaries of language to create the very convincing animal chorus of the opening moments. And when Maddy spoke of the ringdoves she hears in the woods around her, cast member Guenevere Donohue tiptoed forward to one of the two microphones and produced a perfect coo with her round, red mouth. This gesture induced an audio pleasure that called to mind Krapp's relish of the word 'spool' in Krapp's Last Tape while visually echoing Mouth in Not I. The barnyard and forest sounds also served to remind us that human speech exists on a continuum with other voices in nature.
"With all the actors visibly enjoying the show, the Kaliyuga Arts production had charm and energy in keeping with the celebratory nature of this production ... Despite the technical artificialities and the marked contrast between the 1950s set pieces and the play's setting in an early twentieth-century rural Ireland, as we saw Maddy greet each of her companions along her journey, we could not dismiss them as imaginative figments of a monologic musing. They became for us the colorful characters of the village Boghill. The production choices limited the ambiguity of the radio transmission and thus reduced the vaguening often associated with Beckett.
"Yet, Beckettian echoes resounded from expected and unexpected production elements ... Indeed, ghosts of other Beckett plays seemed to hover over this production. The actors read from their scripts and dropped the pages as they finished to avoid rustling, thus invoking a persistent image of discarded words floating silently to the floor. With the lion's share of the dialogue, Mrs. Rooney slowly formed a mound of paper around herself, calling to mind another wordy Beckett protagonist, Winnie from Happy Days. While Kaliyuga Arts has only recently relocated to New York City, the Cherry Lane Theatre hosted the American premiere of Endgame in 1958 and the world premiere of Happy Days in 1961. Rand Mitchell, who lent a tall and dapper figure to his role as Mr. Rooney - alternately distant, angry, and affectionate with his wife - played Listener in the original cast of Ohio Impromptu opposite David Warrilow ...
"The production ended, appropriately for Beckett, not in the coherence of an audience coming together in applause, but in the awkward and anticlimactic conclusion of a radio show. Matt Walker, in the role of announcer, signaled the end of the broadcast, and the red 'On the Air' light was extinguished. The actors relaxed into themselves again, and Calthorpe gathered up the sheets of paper that surrounded her while the others wandered off into the backstage area in twos and threes. The Irish village dissolved without fanfare, and the memories of Beckett's origins once again existed only on the dog-eared pages of the the scattered script." -- Jacqueline O'Connor, Boise State University, published in the March 2007 issue of theatre journal by The Johns Hopkins University Press in cooperation with the Association for Theatre in Higher Education
" PICK OF THE WEEK ... Seeing Kaliyuga Arts' excellent new production of Samuel Beckett's radio play All That Fall (originally written in English for BBC Radio), one can appreciate the possibilities of the lost medium - the seductions of pure sound and the way silence becomes existentially equivalent to death, or dead air. Although presented as a live radio broadcast - complete with 1950s-style squared-off, oversized studio microphones and a mammoth antique radio that faces out to the audience, the production visually entertains with its large ensemble of actors producing an assortment of sound effects. Many of those effects, in fact, come from the actors themselves. Bucolic moos, bleats, and barks, along with plenty of barnyard clucks, crowing, and coos, make for an entertaining and funny backdrop to the main story ... Though they all share a bit of an Irish brogue, the cast members have distinctive sonorous qualities to their voices - gruff or nasal, twangy or sweet, grating or smooth - that perfectly suit their character. Director John Sowle's precise orchestration of the whole medley of voices and sound effects produces a kind of poetry that truly does, at times, ascend to music. What more fitting play to commemorate what would have been Beckett's own 100th birthday? Even if Beckett, the man, has passed on into dead air, we can be assured from productions like this one that his oeuvre's haunting voice will remain alive for quite some time to come, even amid our culture's contemporary static." -- William Cordeiro, offoffonline (click here to link to the full review)
" EDITOR'S PICK: SHOWS WORTH SEEING (alongside The History Boys, Awake and Sing!, and Shining City) ... Samuel Beckett refused numerous requests to adapt his radio plays for the stage - some from rather reputable people, like Laurence Olivier and Joan Plowright. He said his radio works were written to 'come out of the dark' and couldn't work any other way, and since his death his Estate has assiduously followed his wishes. Permission is granted only for faithful radio productions or for staged readings in which producers agree to limit the action to actors speaking the lines and walking to and from chairs. The director John Sowle, in his current staging of All That Fall (1957), Beckett's first and most populous radio drama, has cleverly identified a loophole in the rules: since the play requires many elaborate and self-consciously artificial sound-effects, the production of those effects can become a spectacle in its own right. On stage at the Cherry Lane are a wind-machine, gravel-trays, bells, coconuts, a stationary bike and much more. Furthermore, the actors, who read in front of old-fashioned mics, dressed in 1950s clothes, never acknowledge the audience, even at the curtain call. The conceit is that they're performing a live sound-stage broadcast of the play on which we're eavesdropping ... These actors' handling of Beckett's marvelously extravagant language will certainly send many searching for this still too-little-known text." -- Jonathan Kalb, HotReview. org
" BECKETT AT 100: WAITING FOR GODOT AND OTHER NEW YORK CENTENARY EVENTS ... Two sterling productions presented radio and television works as simulated broadcasts. At the 92nd Street Y, Robert Scanlan directed Words and Music and Cascando, bracing probes into creativity's disputative sources that utilize music ... And in late May at the Cherry Lane Theatre in the West Village, Kaliyuga Arts struck theatrical gold with All That Fall, the rollicking radio play set in the Dublin outskirts of Beckett's youth. Helen Calthorpe, as exasperated and bawdy Maddy Rooney, shared twin studio mikes with a raucous succession of characters; then, more than halfway through, Rand Mitchell arrived as Maddy's husband Dan. With solemn intensity, Mitchell struck an alerting minor key that led to new comic terrain like Dan's outlandish guffaws with Maddy, then pointed Fall to its unsettling conclusion." -- Alan Lockwood, The Brooklyn Rail, October 2006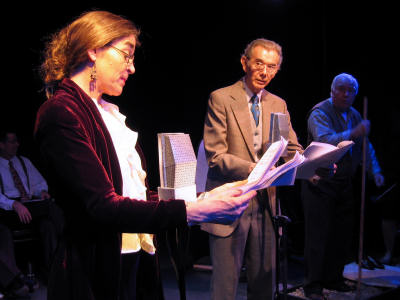 Helen Calthorpe as Mrs. Rooney and Rand Mitchell as Mr. Rooney
" BACKSTAGE PICK ... It's Samuel Beckett's 100th birthday this year and, for all Sam's fans, here's an opportunity to view a rarely produced work. All That Fall was written as a radio play commissioned by the BBC in 1956, and this production, very ably directed by John Sowle, is set in a 1950s radio studio. The women performers are fashionably dressed while the men are all in white shirts and - a nice touch - period ties. There are amusing sound effects designed by Sara Bader, and the actors drop pages from their scripts until the studio floor is awash in discarded words. What's remarkable about these words is that Beckett is in a playful, self-parodying mood. Although there's the characteristic 'How can I go on?,' there's also uncharacteristic humor, as well as a lively celebration of Irish lyricism. True, the play's enigmatic denouement leaves a chilling effect, but before that there's much fun to be had ... [Helen] Calthorpe is the linchpin of the production, creating a Maddy who is literally larger than life." -- Karl Levett, Backstage
" ALL THAT FALL - Recommended ...The Kaliyuga Arts Company is presenting a first-rate production at the Cherry Lane Theatre of Beckett's rarely-seen (or heard) 75-minute radio play. It's a very funny and ultimately haunting work. Definitely worth catching." --kieran, Talkin' Broadway "All That Chat"
" SHORT LIST ... This year is Samuel Beckett's centennial, but New York hasn't seen much celebration of the great but unfestive playwright. This rare staging of his early radio play - about a woman traveling to meet her husband on what may be his 100th birthday - offers us at least a small slice off Beckett's cake ... Worthwhile and challenging." -- Michael Feingold, The Village Voice
Helen Calthorpe as Mrs. Rooney and Erik Kever Ryle as Christy, with Steven Patterson as a hinny
"If you ask us, it's always a good time to see something by Samuel Beckett, but there are extra opportunities this year because of the range of festivities going on to celebrate the centennial of his birth. Kaliyuga Arts is staging Beckett's All That Fall, which he wrote for radio and using an uncharacteristically large cast, as its first New York production. The story is of a fat old Irish woman who goes to bring her blind husband home from the train station. As he always managed to do, Beckett created mesmerizing scenes from such banal ingredients using little more than his inimitable way of playing with language." -- Jen Chung, Gothamist
"Totally deep." -- Time Out New York
"What a pleasure it was to witness first hand your expertise with the great Samuel Beckett ... The remarkable subtlety and range of your vocal performance captured all the ambiguity and resonance of this master playwright. It was thrilling to experience the full meaning and texture of Beckett's work in the clarity and eloquence of your performance. I heartily congratulate you on your achievement ... I hope you'll have the opportunity to share your insight and artistry with many audiences and authors in the future." -- Marshall W. Mason,Director (in an email to actor Rand Mitchell)
"All That Fall was tremendous and absolutely worthy of Beckett's genius. Crystal clear in its execution - such clarity that I could visually witness the event and hear it as a radio play simultaneously neither one compromising the other but in fact enhancing. My best night at the theatre this year. Thank you!" -- Christopher Eaves, Artistic Director/ eavesdrop
The Company
"I wanted you all to know I saw your show Saturday night but had to leave before I got a chance to congratulate you ... As a complete coincidence, I brought my dear friend Eric who happens to be a HUGE 'radio show' fan. His ipod is full of them. He LOVED it. And I did too!! Please pass on my congrats to John ... All of your voices, your bodies and your presence told such a clear story. And while I would at times get distracted by my curiosity of the Foley art, I thought that made it even more effective as a listener. I couldn't be lazy - I had to focus - but that made the payoff even better. And if I happened to 'miss' something, it would unfold later as the story went on. For example, I hadn't realized until towards the end that the main woman was a LARGE woman - how did I miss that??? - but it was so fun in my brain to 'see' her morph into various people before my 'eyes' even though there really was someone standing right in front of me speaking her words. I could go on for days ... Thank you all for your art!" -- Jennifer Boutell, Actor (in an email to cast members Janet Ward, Erik Kever Ryle, and Guenevere Donohue)
"I was recently in NYC and saw all three of the Irish plays dominating Broadway this season, but my favorite Irish play and the theatre highlight of my trip was your company's production of All That Fall. I had read the play in graduate school in a class with Beckett scholar Ruby Cohn, and, not surprisingly, never expected to see it staged; that you and your company did such a great job with it was an added treat. It made for a wonderful and unique afternoon at the theatre. Thanks so much and best of luck to you and your company in NYC! It seems to me you've started off there extremely well." -- Jacky O'Connor, Associate Professor, Boise State University Department of English
"Hi, Dan: I saw the play John mounted and it was very well acted and made the viewer feel like they were sitting somewhere back in time when audiences attended live radio broadcasts. The acting was top notch. It was in a very nice theater in the Village and no one was crapping between parked cars with tin foil used as toilet paper!" -- George Kuchar, Filmmaker (in an email to actor Dan Carbone)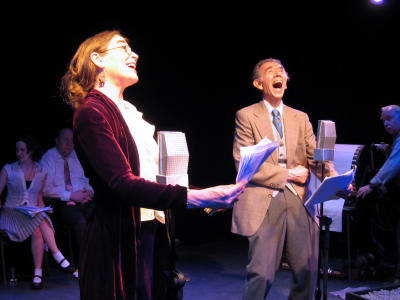 Helen Calthorpe as Mrs. Rooney and Rand Mitchell as Mr. Rooney
CLICK HERE for Press Release and Press Photos
For a full gallery of production photos, CLICK HERE
The Cast
Helen Calthorpe* (Maddy Rooney)

Helen performed in her one woman play:

Waiting for Mr. Yeats: Maud Gonne in Exile, co-written and produced with playwright and poet Gyavira Lasana, in New York, Dublin, Leitrim and Kilkenny. May in Beckett's

Footfalls, N,Y.

The Dirge

by Steve Cannon, at the Nuyorican Poets Cafe, N.Y. Mrs. Henderson in

Rain

at Primary Stages. Hecate in

Macbeth

at Riverside Shakespeare,

Joyce's Women

at Ireland House, N.Y.C. (Molly Bloom, Ulysses, Anna Livia, Finnegan's Wake.) Nora in

Sunday Mornings, Ring Theater, Miami. Films include:

The Message, directed by Mustafa Akaad, with Anthony Quinn, Irene Papas, Abdullah Ghaith, shot in Libya.Jacks Hat

director Damien Burke, Dublin Film Festival.

Rock the Paint, Tribeca Film Festival,La casa roja

dir. Hernan Morales, Quito, Ecuador.

Guenevere Donohue (Female Voice)

Guenevere Donohue earned her BA in Theater from Hunter College, and continued training with Joseph Chaikin, Austin Pendleton, and Dana Zeller-Alexis. She studied playwriting with Tina Howe and was awarded a John Golden Fellowship for her play, The Poecock. Most recently Guen performed and penned the role of Jackson Pollock in The Painters' Project, directed by George Bartenieff. A few of her favorite characters have been: Arkadina in The Seagull, Horatio in Hamlet, The Warrior Angel in Moros y Cristianos, Abigail Williams in The Crucible,Dromio of Ephesus in Comedy of Errors as well as Dionyza, Thaisa and Pandar the Pimp in the same production of Pericles.

This and much more - for Joe

Kate Hamill* (Dolly)


Kate Hamill is a BFA Acting alum from Ithaca College, Ithaca, NY. She most recently performed in

Walk Two Moons

(Theatreworks USA) and

Happy Hour

(Big Little Theatre). Favorite roles include Betty Parris in

The Crucible, Duckling in

Our Country's Good, Ashley inShe's Unravelled, and Gloria in

Wait Until Dark.

She is thrilled to be a part of this production and gives big, big thanks to all involved.

Daniel Hall Kuhn* (Mr. Tyler)

Daniel first discovered the magic of theatre at the age of 11, when he saw a production of

Peter Pan

at Walkersville High School in Maryland, where he spent much of his youth on his family's horse farm. As a result, he now hates horses and is afraid to grow up. Now residing in New York City, Daniel has spent the last thirteen years performing throughout the continental United States in sixteen national tours, thirty-two summer stock productions, and several regional productions. Recently, Daniel made his film debut as Dr. Goddard (the mad scientist!), in the sci-fi thriller

Ice Queen, which was released this past summer and is now available at Blockbuster and Netflix. The release of his second film,

The Infected, is scheduled for next spring. (They haven't invited me onto Letterman or Leno yet, so that's my movie plug!) In addition to acting, Mr. Kuhn has worked on dozens of productions as director, set, lighting, and sound.

Rand Mitchell* (Dan Rooney)

Rand Mitchell is honored to be a part of Samuel Beckett's 100th

anniversary, interpreting the role of Dan under the incisive and insightful direction of John Sowle. Rand and David Warrilow originated the world premiere of

Ohio Impromptu

(Ohio University) directed by Alan Schneider, May 1981. Consequently, all were invited to The Festival du Automne (Centre du Pompidou), Paris.

Ohio Impromptu,

Catastrophe, and

What Where

were then combined as

The Beckett Plays

at the Harold Clurman Theater off-Broadway, Alan Schneider, director. Subsequently, they were performed at the Edinburgh Festival and at the Donmar Warehouse, West End, London. For everyone, the most profound experience was performing

The Beckett Plays

at the Jerusalem Festival. Other credits: Off-Broadway:

The Circle

(Roundabout Theater) with Natalie Schafer. Joseph Papp's (NYSF)

Midsummer Night's Dream. The 25thAnniversary/Circle Rep. Co. production of

Hot l Baltimore. Broadway:

Loose Ends

(Circle in the Square) with Kevin Kline.

Three Men on a Horse

(National Actors' Theater) with Tony Randall.

The Seagull

(National Actors' Theatre) with Jon Voight and Tyne Daly, directed by Marshall W. Mason, master director, who also directed Rand in

Summer and Smoke

(Ahmanson Theater) with Christopher Reeve and Christine Lahti. National tours:

You Know I Can't Hear You When the Water's Running, one with Eddie Bracken, another with Imogene Coca and King Donovan. Rand's other credits include the musicals

Man of La Mancha

and

1776, as well as extensive stock, film, television and various commercials.

Steven Patterson* (Mr. Barrell)

Steven recently returned from Florida where he played Cassius in Julius Caesar for the Orlando-UCF Shakespeare Festival and he'll be heading back this fall to appear in their productions of Jim Helsinger's one-man adaptation of Mary Shelley's Frankenstein: the Modern Prometheus and King Lear. He has performed Off- and Off-Off-Broadway as well as with such theaters as the Oregon, Utah, Sierra, and Lake Tahoe Shakespeare Festivals, South Coast Repertory, TheatreWorks, American Musical Theatre of San Jose, Lexington Conservatory Theatre, and Kaliyuga Arts which he co-founded with his partner John Sowle. Some favorite roles have included Prospero in The Tempest, David in Poor Super Man, Williams in Henry V, Neil in PRIDE, and Austin Wiggin in The Shaggs: Philosophy of the World. On film, he's featured as Bruce in Joseph Graham's Vanilla (now available on DVD from TLA Releasing) and in the documentary The Loss of Nameless Things (which was recently broadcast on the PBS series "Independent Lens"). Steven also created and has toured internationally with Beauty, a solo show inspired by the life and works of Jean Genet.

Erik Kever Ryle* (Christy)


Erik's recent credits include Trailerville, A Beautiful Home for the Incurable, The Feeling of a Beard, The Martyrdom of Peter Ohey, and Blessed Unrest: An Evening of Samuel Beckett. He is currently in post-production on the independent feature film Kincardine. He is overjoyed to again be working with Kaliyuga Arts, having previously appeared in their San Francisco productions of Poor Super Man, PRIDE, and All That Fall.

Dan Seda* (Tommy)

Dan Seda is a recent graduate from North Carolina State University with a BA in Communications and Music History. His most recent work includes the original short filmImpulse (NYU) and two short adaptations of the classic films The Conversation and The Usual Suspects (NYFA). He was just seen as Randy Considine in the hilarious new musical Desire in Beverly Hills and is currently a founding member of Experience Vocal Dance Company and a singer at Ft. Washington Collegiate Church. He is thrilled to be taking on the role of Tommy in the incomparable Samuel Beckett's All That Fall. Thank you to everyone involved in the production, to my friends, and to my family.

Bradley Wayne Smith (Jerry)

Bradley is pleased to be making his New York debut with this production. Before moving to New York he was one of the founding members of Theatre of a Thousand Juliets, a nonprofit theatre company based in Asheville, NC. During his tenure with the company he wrote, directed, and acted in several works performed both in the United State and abroad. Bradley has also acted with many regional theatres including Actors Theatre of Louisville, Totem Pole Playhouse, and the Henlopen Theatre Project. Bradley is a graduate of The University of Iowa.

Matt Walker* (Mr. Slocum)

Matt Walker recently completed the tour of Walk Two Moons for Theatreworks USA with Kate Hamill (see above). Prior to that, he appeared in the world premiere of The Sleeper at Arkansas Rep. He is an original member of the WorkShop Theatre Company in New York, where he has played Red Peter in Kafka's A Report to an Academy, Hamm in Beckett'sEndgame, and Simeon in Desire Under the Elms. Matt has appeared in several plays in various regional theatres across the country. Other favorite roles include: Sir Toby Belch in Twelfth Night, Kent in King Lear, Friar Laurence in Romeo and Juliet, Petkoff in Arms and the Man, Sartorius in Widower's Houses, Benny in Getting Out, Wilson in Terra Nova, and the Drum Major in Woyzeck.

Janet Ward* (Miss Fitt)

Off-off Broadway:

Little Women

(First Look Theatre Company);

Maurizio Pollini

(Samuel French Festival);

Fire Baby

(dir. Trip Cullman, staged reading at DRII);

Jack and Jane(Manhattan Theatre Source);

Amarillo

(BRICstudio); W and V in

Rockaby

and Woman 2 in

Play(Blessed Unrest: An Evening of Samuel Beckett);

Hills Like White Elephants

(Workshop Theater Company);

The Myth of Female Bonding

(Manhattan Theatre Source);

Vieux Carré (Blue Roses);

Spring Awakening

(dir. Daniel Talbott, Expanded Arts);

Will Mr. Merriwether Return From Memphis?

(unpublished Tennessee Williams, Common Basis). Regional:

Bold Girls(Viaduct, San Francisco);

Do Let Us Go Away. A Play

(by Gertrude Stein, dir. John Sowle, EXIT Theatre);

Becket

(by Jean Anouilh, Pasadena Playhouse). TV: Law and Order: CI, Divorce Court. Film:

Dark September Rain,

Wood Technology in the Design of Structures. Training: Joseph Chaikin, Austin Pendleton, Pasadena Playhouse.
*Actors and Stage Manager appearing courtesy of Actors Equity Association
An Equity-Approved Showcase Production

Kaliyuga Arts, 2678 Old Kings Road, Catskill NY 12414 518-943-3894
Copyright © 2015, Kaliyuga Arts