ABOUT KALIYUGA ARTS
Rendering Oddities with Grace & Insight since 1986

"This is Kaliyuga, buddy, the Iron Age. Anybody over sixteen without an ulcer's a goddam spy."
J.D. Salinger,
Zooey
These are terrible times. The Hindus call this Kaliyuga, the last of four ages during which the world slowly devolves into intolerance, entropy and, finally, utter annihilation (see the note on Hindu time below). But within the madness, islands of sanity can be created. And we believe that the Theatre in particular is one of the things helping us to hold back the dark -- that it is, indeed, one of the few remaining places on Earth where people still gather to celebrate, affirm, and uphold everything that makes us human.

OUR COMPANY
Our production company, Kaliyuga Arts, was originally founded in Los Angeles, California in 1986. From its inception, it has been dedicated to the presentation of off-beat, challenging work, and has established an ever-expanding reputation for artistic excellence with a wide range of material. Of the plays we have presented thus far, eight have been world premieres, two U.S. premieres, and five (insofar as we know - there may have been others) area premieres. Based in San Francisco from 1990 thru 2004, New York City from 2004 thru 2010, and currently located in Catskill, NY, Kaliyuga Arts continues to present some of the most exciting, risk-taking and innovative theatre available to audiences anywhere.
The company itself is a tiny, two-man operation. We're both gay men (partners in every sense of the word and now officially married) and our play selection is often colored by that fact. This doesn't mean we confine ourselves with regard to the subject matter. However, since we can afford to produce only sporadically, it's important to us that our work be meaningful - either literarily, socially or in the depth and complexity of the characters it presents. Our work is very actor-driven - we love stuff that serious artists (and it's been our privilege to work with many) can really sink their teeth into. And we love to take on impossible challenges - imaginative use of limited means characterizes our work in general. What we look for above all is theatre that's going to stimulate artists and audiences alike, shake 'em up a bit, take them places they've never been before.
To learn more about us and the work that we do, please take a tour of our site by clicking on the links at the top of this page.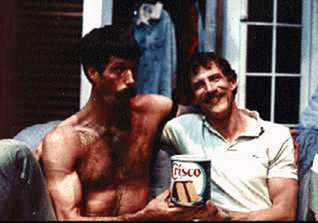 Steven and John on the set of
King of the Crystal Palace, 1987

A Note on Hindu Time
"Four are the ages in the land of Bharata -- the krita, the treta, the dwapara, and the kali. The krita yuga lasts 4800 divine years, the treta 3600, the dwapara 2400, and the kali 1200; and then another krita yuga begins. The krita or satya yuga (the age of gold) is the age of purity; it is sinless. Dharma, righteousness, is perfect and walks on four feet in the krita. But in the treta yuga (the age of silver), adharma, evil, enters the world and the very fabric of time begins to decay. Then comes the dwapara yuga (the age of bronze) in which the dissolution continues. Finally, the kali yuga, the fourth age (the age of iron), is almost entirely corrupt, with dharma barely surviving, hobbling on one foot.
A chaturyuga, a cycle of four ages, is twelve thousand divine years, or 365 times 12,000 human years long."
adapted from The Ramayana, a modern retelling of the great Indian epic by Ramesh Menon
Steven and John, summer of 2007

JOHN SOWLE (Founder and Co-Artistic Director)
John has a Ph.D. in Dramatic Art from the University of California at Berkeley and received a Fulbright Fellowship to study dance-theatre in South India. His Ph.D. dissertation is posted on line here. He received his B.S. degree in Mathematics from the Massachusetts Institute of Technology. There he performed in and directed productions for the MIT Dramashop and, in his senior year, directed Tech Show, the annual student-written musical. For five years, John was chairperson of the Speech and Drama Department at Dominican College in San Rafael, California where he directed notable productions of

The Tempest,

Blood Wedding,

Dido and Aeneas,

The Rake's Progress,

Prometheus Bound

and many other plays, operas and musicals. He served as set designer for the Quantum Leap production of Dostoyevsky's

Crime and Punishment

Off-Broadway at the Harold Clurman Theatre. He has directed and/or designed productions for J.B. Enterprises (the world premieres of

Crime and Variations

and

Mary In The Hydrangea Bush), Contemporary Opera Marin (U.S. premieres of Judith Weir's Heaven Ablaze In His Breast

and H.K. Gruber's

Gomorra), the UC Berkeley Drama and Music Departments, EXIT Theatre (1999 Upstage/Downstage Award for his Scenic Design for

Problem Child), Signal Theatre Company (2000 Upstage/Downstage Award for his Scenic Design for

The Years), Teatro Shalom, The Bare Stage, the Jean Shelton Acting Studio, Theatre Metamorphosis, One-Act Theatre Company, the People's Theatre Coalition of San Francisco, the Berkeley Jewish Theatre and Theatre Rhinoceros. Additionally, John has directed and designed sets for Samuel Beckett's radio play

All That Fall, Robert Montgomery's

Subject to Fits, Gertrude Stein's

Do Let Us Go Away. A Play

and the world premiere of Dan Carbone's

Salvador Dali Talks to the Animals

for EXIT Theatre's Absurdist Series. In 1986, John co-founded Kaliyuga Arts with Steven Patterson and received three Drama-Logue Awards for his directing and design work on their Los Angeles productions of

In Circles,

King of the Crystal Palace, and

The Public. Once the company relocated to San Francisco in 1990, he directed and designed their productions of

The Client

and

The Secret of the Old Queen

(at the New Conservatory Theatre),

Beauty

(1994 San Francisco Fringe Festival and subsequent tours),Poor Super Man

(SOMAR Cultural Center),

L'Histoire de Babar

(1997 SF Fringe Festival),

PRIDE

(EXIT Stage Left),

The Pilgrim Project

(2001 SF Fringe Festival),

Up From The Ground

(the first half of a double-bill called

Hysterics

at the Phoenix Theatre), and

An Impersonation of Angels or The Enigma of Desire

(EXIT on Taylor), designed their production of Michael Ondaatje's

The Collected Works of Billy the Kid

(The Marsh), and created and performed a one-person show called

Horripilation!

Inspired by the

Natya Shastra, an ancient encyclopedia of theatrical practices, and by his experiences living and studying in India in the early 1970's,

Horripilation!

was a tremendous hit at the 1995 San Francisco Fringe Festival (where it was voted "Best of the Fringe") and was enthusiastically received in a brace of subsequent special engagements at the Open Secret Bookstore & Cafe in San Rafael. He has recently directed and designed Kaliyuga Arts' first productions in Manhattan: an immensely successful two-week engagement of Beckett's

All That Fall

and the New York premiere of Dan Carbone's

Kingdom of Not, both

at the historic Cherry Lane Theatre in Greenwich Village and then a new production of

In Circles

at Judson Memorial Church, where it was originally produced. From 2010 through 2012 John was Associate Artistic Director at Stageworks in Hudson, NY where he co-directed Play by Play for three seasons and designed sets and lighting for their production of Tennis in Nablus. In 2012 he directed and designed the Kaliyuga production of Lanford Wilson's The Mound Builders and in 2013 directed and designed Brad Fraser's True Love Lies, both at Stageworks. In 2011 he retired after working for 25 years at Fireman's Fund Insurance Company in Los Angeles, San Francisco and New York City, most recently as IT Director for Legal Services.

STEVEN PATTERSON (Founder and Co-Artistic Director)
Steven's career has included appearances Off- and Off-Off-Broadway as well as with such theaters as the Oregon, Pennsylvania, Tennessee, Lake Tahoe, Sierra, Orlando, Grove, and Utah Shakespeare Festivals, South Coast Repertory, Theatre Off Park, American Musical Theatre of San Jose, TheatreWorks, freeFall Theatre, Foothill Theatre Company, the Cherry Lane Studio, Upon These Boards, Powerhouse Theatre Company, Contemporary Opera Marin, Chenango River Theatre, Depot Theatre, Stageworks/Hudson, Centenary Stage Company, 42nd Street Moon, Pacific Alliance Stage Company, Signal Theatre Company, American Citizens' Theatre, Theatre Rhinoceros, Calaveras Repertory Theatre, Women In Time, PASSAJJ Productions Ltd, J.B. Enterprises, Park Square Theatre and the Lexington Conservatory Theatre. Among the literally hundreds of roles he has portrayed, some of his favorites have included Lear in King Lear, Prospero in

The Tempest, August Howe in Lanford Wilson's The Mound Builders, Judi Boswell in Michelle Carter's How To Pray, Ubu in Ubu Rex , The Creature in Frankenstein: The Modern Prometheus, Edmund Tyrone in

Long Day's Journey into Night, Michael Williams in

Henry V, Ricky in David Rabe's

Sticks and Bones, Giovanni in

'Tis Pity She's a Whore, Rob in C.D. Arnold's

King of the Crystal Palace, Zach in

A Chorus Line, Gonzalo in Federico Garcia Lorca's

The Public, Jean in Beauty, David in Brad Fraser's

Poor Super Man, Neil in Myles Weber's

PRIDE, and Austin Wiggin in Joy Gregory and Gunnar Madsen's musical

The Shaggs: Philosophy of the World. On film, he has been featured in Bill Rose's documentary

The Loss of Nameless Things

and as Bruce in Joseph Graham's

Vanilla. As a director, his credits have included Tennessee Williams'

This Property is Condemned, George M. Cohan's

The Tavern, Philip Barry's

Holiday,

Robert X. Rodriguez's opera

Tango, and Lanford Wilson's

The Rimers of Eldritch. In 1986, he co-founded Kaliyuga Arts with his partner, John Sowle, and has since appeared as an actor in their productions of

In Circles (in both Los Angeles and New York),

King of the Crystal Palace,

Soul Survivor,

The Public,

Poor Super Man, L'Histoire de Babar le

Petit Elephant,

All That Fall

(in both SF and NY),

Do Let Us Go Away. A Play,

PRIDE, The Secret of the Old Queen,

The Pilgrim Project, An Impersonation of Angels or The Enigma of Desire,The Mound Builders, andTrue Love Lies, served as dramaturg and sound designer for C.D. Arnold's

The Client, dramaturg and costume designer on Robert Montgomery's

Subject to Fits, directed Sowle's Horripilation!

for the 1995 San Francisco Fringe Festival, Open Secret Bookstore, and the Times Square International Theatre Festival, Ned Rorem's opera (on a text by Gertrude Stein)

Three Sisters Who Are Not Sisters

for EXIT Theatre's 1998 Absurdist Season (for which he also designed sets and costumes), and Kaliyuga Arts' productions of Michael Ondaatje'sThe Collected Works of Billy the Kid

Upstairs @ The Marsh and

X: the Rise & Fall of an Asylum Star

(half of a double-bill entitled

Hysterics) at the Phoenix Theatre, and served (as he still does) as Kaliyuga Arts' Literary Manager. He has also created, performed and toured internationally with a one-man show inspired by the life and works of Jean Genet called

Beauty. Steven is a member of Actors' Equity Association, the union for professional actors and stage managers in the United States.

Kaliyuga Arts, 2678 Old Kings Road, Catskill NY 12414 518-943-3894
Copyright © 2015, Kaliyuga Arts