ALL THAT FALL
by Samuel Beckett
Winner of 2 Bay Area Theater Critics Circle Awards
[Ensemble Performance & Sound Design (Adam Oliver)]
SF Weekly Black Box Award
[Direction (John Sowle)]

From left: John Chapin, Verona D. Seiter, Esther Mulligan, Frances Ferry, Erik Kever Ryle, Colm Byrne and Steven Patterson
Directed and Designed by John Sowle, Sound Design by Adam Oliver
with Colm Byrne, John Chapin, Frances Ferry, Paul Gerrior, Joseph Graham,

Janet Keller, Lawrence Motta, Esther Mulligan, Bill Parker, Steven Patterson,


Erik Kever Ryle, Verona D. Seiter and Janet Ward
Opened June 24, 1997 at EXIT Stage Left; San Francisco, CA
Presented as part of EXIT Theatre's 1997 Absurdist Season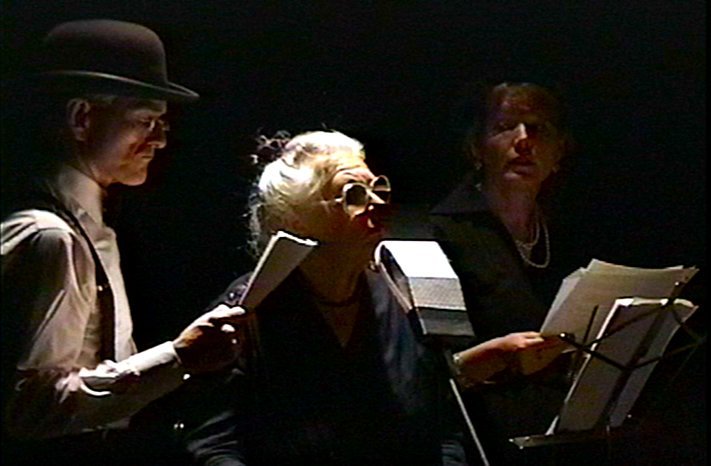 John Chapin, Verona D. Seiter, and Esther Mulligan
"Critic's Pick! ... John Sowle's staging of All That Fall works so beautifully because he and his cast understand that the best thing to do with Beckett is trust the text and avoid unnecessary conceptual flourishes. The simple, spare, elegant performances and clean staging allow us to become absorbed in the tale of old Mrs. Rooney's perilous journey to the train station to meet her blind husband and their return journey after his train's late arrival. Sowle's cast plumbs the richness of the script to illuminate the humor and pathos of that journey. Verona D. Seiter and Paul Gerrior as Mr. And Mrs. Rooney imbue their characters with that blend of self-pity, rage and tart bemusement that is the hallmark of most of Beckett's creations. Seiter in particular captures the steely determination at the heart of the seemingly doddering and helpless old lady ... Among the rest of the cast, Steven Patterson's belligerent Mr. Barrell and Esther Mulligan's spooky 'dark Miss Fitt' are standouts. Adam Oliver's sound design, performed by Foley operators Joseph Graham and Bill Parker, adds resonance to Beckett's sorrowful parable ... Truly memorable!"
--- Kerry Reid, Back Stage West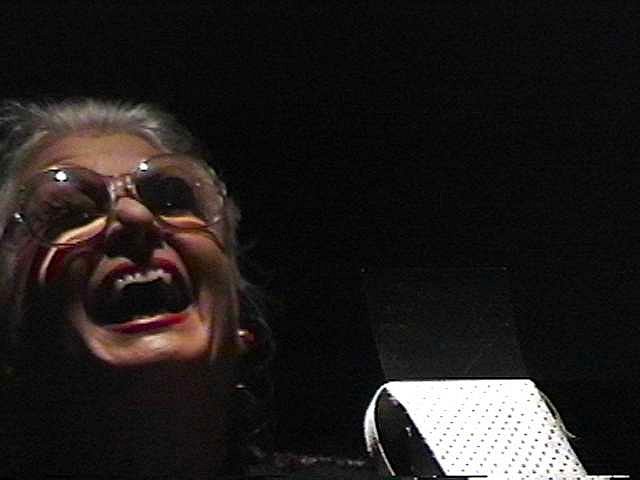 Verona Seiter
"Beautifully controlled! ... Sowle's cast moves around the studio making footsteps in gravel, twirling bicycle wheels, neighing and twittering like birds, letting script-leaves fall on the floor. The symphony of noises is tuned and tight and the acting is seamless. When it's over, the actors relax into their other roles, as performers in a studio, pretending to be so unaware of what they've just created that when the applause comes, in waves, nobody even bows ... Director John Sowle has proved that watching All That Fall onstage doesn't have to keep you from hearing it over the radio."
--- Michael Scott Moore, San Francisco Weekly
"Another impressive performance! ... John Sowle directs a cast of ten (who also double as farm animals and sound effects) and they step forward in turn to read their lines at the mike. The audial presentation frees the mind to visualize the journey's trifling details, even to the killing of a squawking hen trying to cross the road. Much of the joy in this fine production is watching the design work of Adam Oliver, Joseph Graham and Bill Parker as they work their sound effects magic with such mundane articles as a box of gravel."
--- Gene Price, San Francisco Bay Times
Paul Gerrior and Bill Parker
"Wonderful! ... San Francisco's EXIT Theatre is currently presenting Beckett's All That Fall in its radio format with actors holding scripts, standing at microphones, sometimes producing animal and bird sounds, and with sound effects people handling footsteps, bell rings, train and automobile noises. The pauses, the sounds and the voices of the people whom an old lady encounters on her way to meet her blind husband at a railway station all serve to create a mesmerizing mood ... Verona Seiter shines as the old woman Maddy and the polished ensemble, well directed by John Sowle, is nothing short of highly skilled and resourceful."
--- Dean Goodman, Drama-Logue

Foreground: Verona D. Seiter, Janet Ward and Paul Gerrior, with the Cast

Kaliyuga Arts, 2678 Old Kings Road, Catskill NY 12414 518-943-3894
Copyright © 2015, Kaliyuga Arts