PRIDE
by Myles Weber
Recipient of 3 1999 Dean Goodman Choice Awards
[Original Writing (Myles Weber), Direction (John Sowle) and Ensemble]
From left: Jett Pihakis, Michael McAllister, Steven Patterson
Directed and Designed by John Sowle
Stage Manager - Bill Parker, Technician - Jeanne St. Peter
with Jett Pihakis, Steven Patterson, Michael McAllister, Erik Kever Ryle
Opened June 4, 1999 at EXIT Stage Left; San Francisco, CA
PRIDE was named by Richard Dodds as one of the best new plays produced in the Bay Area during 1999
in his summary of the 'Best of the Year On Stage' for the Bay Area Reporter

From left: Erik Kever Ryle, Steven Patterson, Michael McAllister and Jett Pihakis
"A new play titled PRIDE has arrived along with the rainbow flags down Market Street, but despite its Gay Pride timeliness, the eponymous pride is the bad type. You know, the kind that goeth before a fall ... Both literate and engrossing, a work that resists predictable turns. Weber displays a developed sense of dialogue, a subtle but cunning wit, and a somewhat dark view of gay human nature ... Director John Sowle lets his cast develop the emotions of each scene, and each actor provides a faceted and finely tuned performance. Steven Patterson makes the most of his showcase role of Neil, creating an original character that still rings true in his various emotional permutations. As Doug, Jett Pihakis ably suggests this somber, handsome hedonist, while Michael McAllister creates a seamless portrait of party-boy Brady. There is an inviting delicacy to Erik Kever Ryle's performance of Alberto, who comes into Neil's life at just the wrong moment ... PRIDE is not a play with a happy ending, unless you consider a thoughtful, well-executed play a happy end unto itself. It's certainly a welcome entrance that Myles Weber has made at the EXIT. This emerging gay playwright displays a distinctive new voice in which he can take pride -- the good type."
Richard Dodds, Bay Area Reporter
"A great new play!"
Bill Kaiser, On The Purple Circuit
Steven Patterson as Neil and Michael McAllister as Brady
"A penetrating drama of an unattached gay man desperately approaching middle age, well written and featuring well acted, offbeat characterizations."
Gene Price, SF Bay Times
"ePick ... Theater directors John Sowle and Steven Patterson -- collectively Kaliyuga Arts -- generally like their plays expressionistic, absurd and manic. They've done everything from L'Histoire de Babar to avant-garde cult figure Robert Montgomery's hilariously dour take on Dostoyevsky's The Idiot to Stein, Stein and more Stein. All along, they've shown their gift, as one critic noted, 'for rendering oddities with grace and insight.' But realism hasn't generally been one of the tricks in their bag. At least not until Myles Weber sent them his manuscript of PRIDE ... A scathing, forlornly undomestic comedy about a foreign service employee who tries to get over the men haunting him and get involved with those titillating him, the play hits home without -- get this -- resorting to any nudity whatsoever!"
Apollinaire Scherr, sfgate.com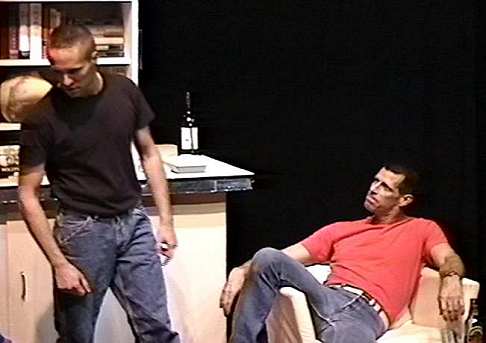 Michael McAllister as Brady and Steven Patterson as Neil
"Hot Pick! In this scathing new comedy timed to run during Gay Pride month, lead character Neil is stuck in a Foreign Service job he hates and a life full of ironic complications. All he wants is some permanence and predictability, but the one thing he can count on is life's unpredictability ... Fast-paced, entertaining and moving!"
Belinda Taylor, San Francisco Sidewalk
"Sensitively etched ... Weber's writing resonates with the pain of isolation and loneliness. [He] crafts dimensional characters and believable dialogue -- refreshing traits in a gay theater too often dominated by shallow repartee and cartoonish eroticism."
Brad Rosenstein, SF Bay Guardian
"I liked PRIDE a lot!" (Recipient of 3 1999 Dean Goodman Choice Awards)
Dean Goodman, Former Theatre Critic, Drama-Logue

Steven Patterson as Neil and Erik Kever Ryle as Alberto
"Many thanks to you and John for including me in your opening last night. I really enjoyed the performance and I think the piece shows real promise; it reminded me a bit of Pinter's Betrayal (but easier to follow!) ... I suspect it will be challenging for some to watch as the scenario may hit too close to home, but, hey, that's part of the point of good theatre -- right?"
Dennis Lickteig, Theatre Professional, San Francisco
"The play has stayed with me. It has a sort of Pinter quality, a kind of nervous indecision between drama and comedy -- indecision as much for the audience as the play. And I'm NOT saying that it should be less ambiguous about tone -- I like that sort of ambiguity. The cast was solid -- you [Steven] did some of the subtlest work I've seen from you. In fact it was a bit stunning to see you so gooey and vulnerable at moments ... I think the playwright is talented, and has a great future ahead of him. Subtle but effective. I hope you get the attention and audiences you deserve."
Val Addams, Theatre Professional, San Francisco
"My friend and I enjoyed the piece. We both enjoyed the rich, sharp dialogue and felt the acting was strong and flowed smoothly. It hit me in some ways like The Boys in the Band. I'm not really sure how to explain that (I'm better with paint than words), but something about the bitter, neurotic reality of big city gay life, of how gay men treat themselves and each other. I came home kinda disturbed (a good thing) and it took a little time to shake off the feeling of just seeing a little slice of someone I know's life, maybe in some respects mine. The dialogue was so rich, I couldn't help thinking that people who enjoy language would find the play refreshing and stimulating ... Kudos to you guys for giving it your all!"
David Fink, Visual Artist, San Francisco
"Sorry it's taken me awhile to write this, but I wanted to tell you that I saw PRIDE last Friday night and REALLY enjoyed it. I thought your work, and John's direction, were both really excellent. And the supporting cast was also great, and perfectly cast ... It's such an unusual play. I was really caught up in their world by the end. And you did a terrific job of playing a simultaneously repulsive (only sometimes) and sympathetic character ... Congrats on a terrific show."
Eddie Wallace, Actor, Mountain View

Kaliyuga Arts, 2678 Old Kings Road, Catskill NY 12414 518-943-3894
Copyright © 2015, Kaliyuga Arts