THE MOUND BUILDERS
by Lanford Wilson
Performed
May 11 through 19, 2012
Stageworks/Hudson
41-A Cross Street
Hudson, NY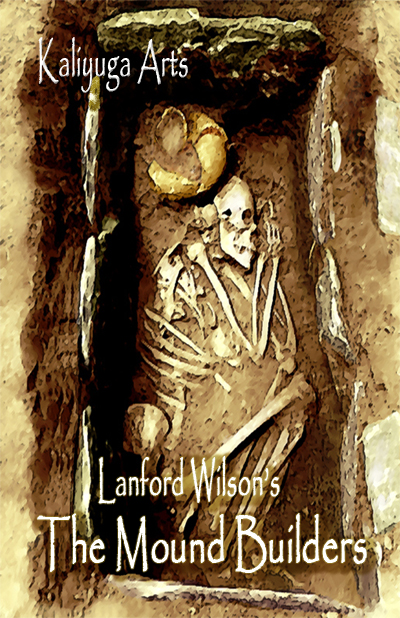 Directed and Designed by
John Sowle
Sound Design by Phillip Elman
Selected as one of the Ten Best Productions of 2012 in Metroland
Photos from The Mound Builders
As the first production in its new home in the Hudson Valley, Kaliyuga Arts chose an often-studied but rarely performed American theatre classic, Lanford Wilson's The Mound Builders.
In the play, a group of archaeologists, racing against time to excavate an ancient Native American burial site before it is engulfed by a man-made lake, unearth instead dark secrets they have buried deep inside their own hearts. Equal parts thriller, mystery story, and epic family drama, it is also a compelling exploration of the human need to dream and create.
Long recognized as one of America's finest playwrights, the late Lanford Wilson always considered The Mound Builders his favorite of the manyworks he created, among them the Pulitzer Prize-winning Talley's Folly, Fifth of July, Hot l Baltimore and Burn This. Certainly the most novelistic of all his plays, The Mound Builders takes audiences on an archaeological dig of their own, sifting through a complex web of the characters' interpersonal relationships and piecing together what's really going on behind all the lies, deceptions, and intrigues. And hovering over the entire play is the sense of some malevolent primal force out in the darkness, biding its time, waiting to wreak havoc on those who would dare to exhume, for their own ends, things that were never meant to be brought to light.
Writing of the original Circle Repertory Theatre production in 1975, critic Clive Barnes said that The Mound Builders "sends you out into the street with your mind spinning cartwheels. In the sheer complexity of its thought and feeling it is one of the most interesting American plays in years, and the writing is absolutely masterly."
Selections from the reviews
"Lanford Wilson's The Mound Builders, a challenging play now in an excellent production at Stageworks/Hudson, explores the fascination of the quick with the dead, as a team of archaeologists races to excavate a Midwest site of burial mounds before the land is flooded for recreational use and a highway is laid down. The play opens in 1975 with professor August Howe (Steven Patterson) dictating notes about a 1974 dig into a tape recorder for his secretary to transcribe, notes accompanied (for the audience's benefit) by slides of the dig projected on the rear wall. In essence he's creating his own artifacts, a human record only a little more sophisticated than the copper mask and bone tool the team uncovered. As we see during the course of the evening, there will always be questions about 'what really happened' any place, any time, the nooks and crannies of human interaction being what they are … Following Wilson's dialogue is stimulating because it's often not linear. There are plenty of overlaps, and sometimes a response by one character merely glances off a previous comment. Mini arias emerge, letting us into the heart of the characters as they excavate their own pasts. The production, under John Sowle's direction, is fast-paced and physical, and the set he has designed is realistic and theatrically clever. Kudos, as well, to Phil Elman's rich sound palette. The ensemble work is tight. Patterson is credible as a man too busy with the past to pay much attention to the present. Parker-Myers plays a woman in the shadows on the lookout for an attentive man – or at least the anodyne of alcohol. Murphy's Jean is an OB-GYN whose career is interrupted by pregnancy, but the prospect of a baby seems fraught with uncertainty. Nice work by both actresses. Showier roles are beautifully filled by Kesy, pushy, sexy, and shrewd as the ordinary Joe with big dreams. Fenaughty makes Dan a poet, sober or drunk or stoned, searching for meaning just as passionately as Chad searches for things. And Pillai's Delia, lying on the couch like an oracle consulted by the younger folks whose lives lie before them, is achingly fragile and tough … Not an easy play, then, but one illuminated by the fine work in Hudson."
-- Paul Lamar, Schenectady Gazette
"Fascinating! … The key players in Kaliyuga Arts – actor Steven Patterson and director John Sowle – have been wanting to stage Lanford Wilson's 1975 play The Mound Builders since the company's inception over 25 years ago. Given the troupe's current production, now on the boards at Stageworks, it's easy to see why … Wilson seems to write in layers, with each scene bolstering, then brushing away the next. It's an appropriate tack for a show that centers on archaeology … Sowle does strong work with suggesting impending doom. The play's repeated motifs (pushed along by Phil Elman's constantly-thrumming sound design) aren't as ominous as Eugene O'Neill's beating drum in The Emperor Jones, but they are just as effective. And Sowle's stage design is remarkable, becoming another character in the play. Sowle and Patterson have reason to be proud of their local bow, and we'll hope to see more from Kaliyuga Arts."
-- Michael Eck, Albany Times Union
"Director John Sowle's set design at Stageworks/Hudson makes it easy to see why The Mound Builders was the late Lanford Wilson's favorite play. While the Pulitzer Prize-winning Talley's Folly or Hot l Baltimore or Burn This might be produced more often, this 1975 Obie Award-winning play is smartly structured, complex, and intriguingly subtle. Centered on the doings at an archeological dig in Blue Shoals, Ill., The Mound Builders is brilliantly served by Sowle's erosion cloth panels for the summer rental home and the rear scene projections of the Native American burial mounds. The set material is the ideal symbol for a play about digging ever deeper into the dirt and the secrets the past reluctantly yields … The mound slowly yields up its story just as the characters reveal their secrets and regrets. When Howe's desiccated, dissipated novelist sister D.K. literally is carried in a blanket, mummy-like, into the summer house, both mound and characters soon give up the mother lode, and the reverberations intimate tragedy both in the distant past and the ambiguous present, in Wilson's rich and insightful writing. Phil Elman's sound design aids Sowle's staging perfectly, giving the scenes in the summer house the echoes of drums, chanting, and thunder; car tires on gravel; cries that fade with an indie horror film piano accompaniment; and in the study scenes the hiss of the tape recording and the click of the slide projector, like bullets rotating in the chamber. It's a smart touch in a well-staged production of a play full of depth and multiplicity."
-- James Yeara, Metroland
Cast and Crew Bios
Dan Fenaughty -- Dr. Dan Loggins

Dan is a native of the Hudson Valley, being raised in Palenville. He has pursued his acting career in New York City for the past four years after graduating from Geneseo with a Bachelors in Political Science . He has been fortunate enough to travel throughout this country working on great shows with wonderful people. Dan was lucky enough to be introduced to John Sowle in the summer of 2010 during the Play by Play Festival at Stageworks/Hudson. Since then, Dan has been around the country yet again, performing with the second national tour of The 39 Steps as Richard Hannay. He was able to rest for a few months before gearing up to play a variety of roles ranging from Billy Flynn inChicago to The Gentleman Caller, Jim O'Connor in The Glass Menagerie, and culminating with a Christmas Panto ofPeter Pan in Reno, NV in which he fulfilled a childhood dream of playing Captain Hook, complete with the booing and hissing audience. Dan would like to thank John for this opportunity and also Laura Margolis who introduced the two of us. Much Love to Larissa and his family.

Jack Kesy -- Chad Jasker

Jack, a New Yorker growing up in the heart of the city, began his journey into the arts by painting the walls of the city and living the life of an ambitious cockroach only eventually blossoming into a full time explorer of the human spirit. In between this metamorphosis, Jack enjoyed chasing girls, playing tennis and breaking rules before falling under the spell of Theater. He performed in Diary of Anne Frank in Westport Connecticut, directed by Gerald Freedman, Tennis in Nablus by Ismail Khalidi at Stageworks/Hudson, and in London at the Guildhall School of Music and Drama where he studied the classics with Patsy Rodenburg, Janet Suzman and Dinah Stabb. Recent film work includes Yelling to the Sky by Victoria Mahoney, Morgan by Michael Akers, Grand Street by Lex Sidon and more. Jack dedicates this show to the people of the sun.

Lauren Murphy -- Dr. Jean Loggins

Lauren is an NYC-based actress and Boston native. Credits: The Money Show (HERE Arts Center), Run. Run. Stop.(Theatre Row), Banshee (NY Fringe), Play by Play: Blue Moons (Stageworks/Hudson), King of Ghosts (Philadelphia Fringe), Twelfth Night (Classic Stage Company), Angry Young Women (Theater for the New City), The Tempest(Folkwang Festival, Germany), Big Love (Svetkani Fesival, Czech Republic). M.F.A., Columbia University

Molly Parker-Myers -- Cynthia Howe

Molly is an actor and singer based in the Hudson Valley. Molly appeared last summer at Stageworks/Hudson in The Divine Sister (Mrs. Levinson/Timothy) and at Shadowland Theatre in The Ladies Man (Marie). Other recent credits include Forbidden Broadway at Stageworks/Hudson, The Language Archive (Mary), Hairspray (Velma), The Drowsy Chaperone (The Drowsy Chaperone), Dirty Rotten Scoundrels (Muriel Eubanks) and Falsettos (Doctor Charlotte).

Steven Patterson* -- Professor August Howe

Steven has performed in New York City and regionally with such theaters as South Coast Repertory, TheatreWorks, Capital Repertory, Lexington Conservatory Theatre, freeFall Theatre, Chenango River Theatre, Centenary Stage Company, Depot Theatre, Contemporary Opera Marin, and the Oregon, Orlando, Colorado, Pennsylvania, Utah, and Lake Tahoe Shakespeare Festivals. A few of his favorite roles have included King Lear, Jean Genet in Beauty, Austin Wiggin in The Shaggs: Philosophy of the World, David in Poor Super Man, Zach in A Chorus Line, the Creature inFrankenstein, Ubu in Ubu Rex, and Judi Boswell in How to Pray. Co-Artistic Director of Kaliyuga Arts, he currently resides in Catskill, NY.

Louise Pillai -- D.K. (Delia) Eriksen

Local audiences have seen Louise in a number of area presentations including, most recently, an independent production of Cabaret at Stageworks/Hudson. This past summer she appeared in Play by Play: Shadows and The Divine Sister in Stageworks productions. She also participated in readings of The Substance of Fire at the Chatham Synagogue, Chapter Two with the Aglet Theater Company in MA and CT and An Ignorant Man at TSL in Hudson. A member of Play in Progress, she performed in their new play Program at the Hudson Opera House.

Melissa A. Nathan* -- Stage Manager

Melissa is based out of NYC. New York credits include: Amahl and the Night Visitors w/Suzanne Ishee and Larry Marshall (Harbor Lights Theater Co), Victory w/Jan Maxwell (PTP/NYC), Twelfth Night (Sonnet Repertory Theatre),St. Nicholas (Theatre of the Expendable; nominated for 3 NYIT awards), Show Choir! The Musical w/Stephanie D'Abruzzo (Sound Street Productions) and China: The Whole Enchilada (FringeNYC; winner Outstanding Musical). Regional credits include: Lost in Yonkers and Sylvia (Atlantic Stage), Wicked City (Depot Theatre), Bonnie & Clydew/Jeremy Jordan and Laura Osnes (Asolo Repertory Theatre), Veronica's Room, Dirty Rotten Scoundrels andMoonlight & Magnolias (The Theater Barn), Beauty & the Beast (Northern Stage), Twelfth Night, Every Christmas Story Ever Told and The Imaginary Invalid (Orlando Shakespeare Theatre), King Lear and Merchant of Venice (New Theatre). Proud member of Actors Equity and the Stage Managers Association. www.MelissaANathan.com
* Indicates a member of Actors Equity Association, the Union of Professional Actors and Stage Managers in the United States

Kaliyuga Arts, 2678 Old Kings Road, Catskill NY 12414 518-943-3894
Copyright © 2015, Kaliyuga Arts